Navigate Your Path to Office 365 with a Proven Migration Methodology
Moving to Office 365 is now easier than ever with Interlink's Cloud Atlas – a journey to the cloud that allows you to get the most out of your cloud investments.
Our comprehensive methodology enables your organization to seamlessly move to Office 365 quickly, efficiently and with limited interruption to your end users.
Cloud Atlas: Knowledge & Support
With Interlink's Cloud Atlas, you start your journey with an assessment that includes a plan, workshops for planning and a defined roadmap that includes an in-depth knowledge base of documentation and processes for Office 365 migration and support. In addition, you will receive End User Communication Guides to help ease the transition to Office 365 for your end users.
Experience the Journey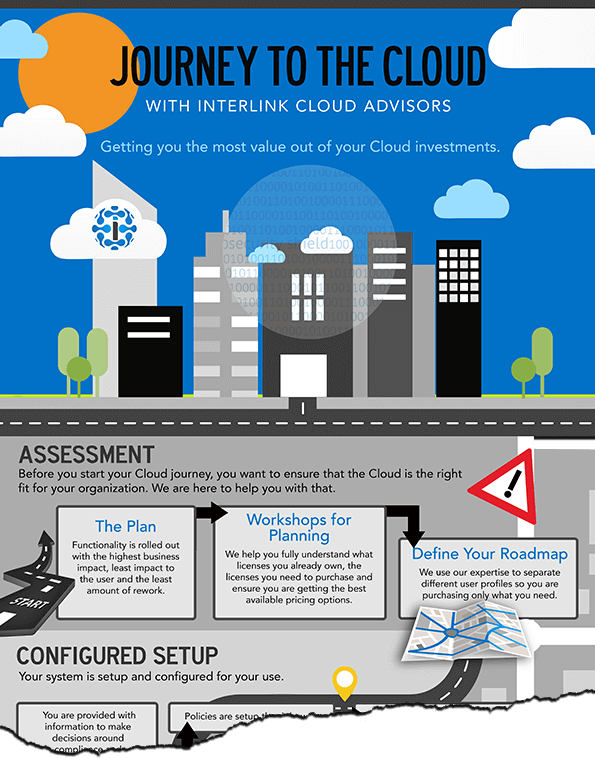 Deliverables:
Project Plan Examples

Training Guides and Material

System Requirements

Step by Step Licensing Guides

End User Communication Templates

Profile Configurations
Mobile Phone Setup Instructions

Best Practices Email

End User Training Resources

Admin Resources

PowerShell Script Library
Cloud Atlas: Office 365 Implementation Plans
Interlink will customize a migration plan to the individual needs of your organization. Depending on the amount of time you want your internal IT team to invest.
We offer three Implementation Plans:
Silver Advisor Plan:

Interlink is your advisor in your migration to the cloud

Gold Implementer Plan:

Interlink is driving forward the project to the cloud, building onetime items and leading pilot migration

Platinum 365 Plan:

Interlink takes ownership of the project from front to back to ensure success
Interlink is here to guide and assist you! Please reach out to us for more information on what migration looks like with your specific environment and needs! Your migration plan is crucial to current and future success in your organization. We work hard to make sure our clients know exactly what they are getting and how to get the most from their investments.