On-Demand Webinar | How to Stay Secure & Productive with Microsoft's Enterprise Mobility + Security Suite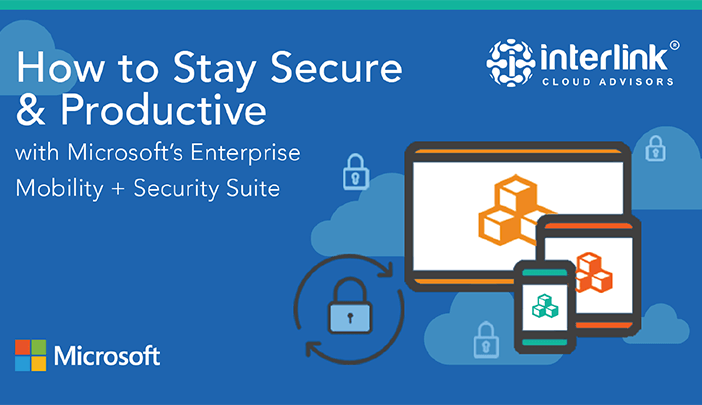 WHAT YOU'LL LEARN
During this on-demand event, see what's new through a demo of EMS E5 functionality and how it allows you to:
Lockdown your valuable data: Automatically classify information to better protect intellectual property with Azure Information Protection. Lock it down so, your competitors can see it and your existing sales people can't take it with them!
Secure the cloud: Drive security policies and reporting across Microsoft and non-Microsoft cloud services with Cloud App Security. Your data is being dispersed all over the global by using various SAAS services. Take back control and visibility – we'll show you how!
Control Administrator Account Access: Ensure that powerful rights are utilized appropriately. Privileged Identity Management gives the ability to grant access to admins only when required and limited to the resources needed.
Use Identity Protection: Ensure that users are accessing your environment following the policies that are required for your business. Automatically identify risky scenarios, take appropriate actions, and provide reporting.
VIEW WEBINAR & SLIDES
Are you looking to add a tighter level of security to your environment? Do you want to stay secure and productive on your favorite apps and devices?
In this on-demand event, Microsoft and Interlink Cloud Advisors show you the powerful new capabilities of Microsoft Enterprise Mobility + Security and how it ensures your critical company data is protected.
In addition, we provide an in-depth licensing overview and comparison of EMS E5 vs. EMS E3 features and functionality. You'll also see how you can leverage Microsoft paid assessments and proof of concepts to understand if EMS E5 is the right solution for your business.
Register now to instantly watch this information-packed webinar and download the slide deck.