On-Demand Webinar: How to Achieve Advanced Security, Compliance and Visibility with Office 365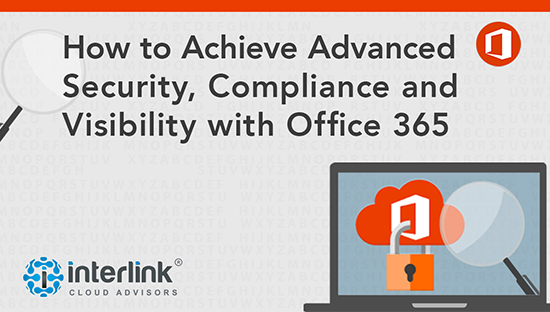 WHAT YOU'LL LEARN
Through demos and successful customer deployment scenarios, we'll help you understand the new security and compliance functionality available in Office 365 and demonstrate how you can achieve:
Improved Security and Compliance: Protect and control access to your data

Accelerated Response Times: Take corrective action quickly on security violations

Reduced Risk: Reduction in the time spent looking for litigation information

Improved Protection: Reduce ransomware and malware
LIVE DEMOS, INCLUDING:
Advanced eDiscovery and Advanced Security Management
VIEW WEBINAR & SLIDES
While moving to the cloud has increased flexibility for employees and reduced IT cost, it has also raised new security concerns for many organizations...
To realize the full benefit of cloud applications, IT teams must find the right balance of enabling access while maintaining control to protect critical data.
In this on-demand event, Microsoft and Interlink Cloud Advisors explain you how your organization can take full advantage of the cloud while maintaining control, security and improved visibility into activity with Advanced Security Management and Advanced eDiscovery.
Register now to instantly watch this information-packed webinar and download the slide deck.