On-Demand Webinar | How to Manage Any Platform, On Any Cloud with the Microsoft Operations Management Suite (OMS)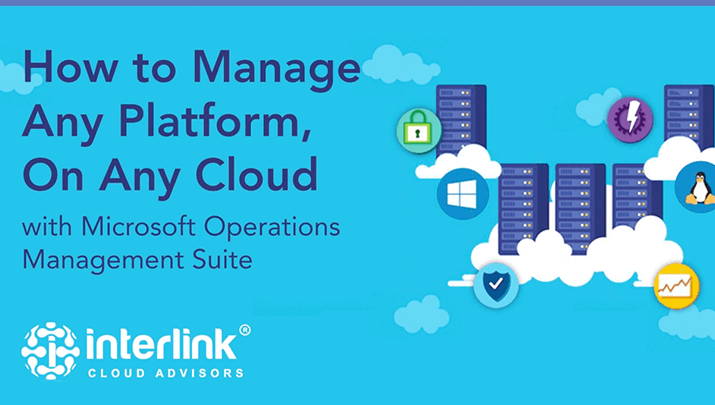 LEARN HOW YOU CAN USE OMS TO:
Quickly setup disaster recovery in the Azure cloud
Effortlessly monitor workloads and alerts to proactively resolve issues
Easily access assessments for your critical deployments, such as SQL & Active Directory
Pinpoint operational issues before they become a problem that impacts your business
Automate tasks with powerful tools
Improve your security posture and respond faster to security threats
Protect your data off site
View the webinar and slides to see how and if Operations Management Suite can benefit your organization.
VIEW WEBINAR & SLIDES
Are you looking for a single hybrid solution that manages your entire fleet of servers, from any location - regardless if you're running in public, private or hybrid scenarios?
Join Microsoft and Microsoft Gold Certified Office 365 Partner - Interlink Cloud Advisors - in this on-demand event, that covers how Microsoft's Operations Management Suite (OMS) can help you leverage your cloud-scale resources to unlock new, faster ways to solve and prevent problems and protect your systems.
In this webinar, you'll see just how OMS delivers capabilities and capacity beyond any on-premises management solution by combining a holistic view of all your managed resources across multiple cloud and platforms - with full-featured backup and disaster recovery solutions.
Register now to instantly watch this complimentary information-packed webinar and download the slide deck.