On-Demand Webinar | Getting Value From Office 365: You've Deployed Exchange - Now What?
Presented by Matt Scherocman & Mike Wilson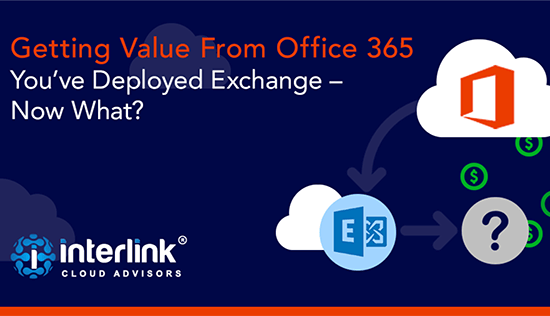 WHAT YOU'LL LEARN
Live demos, including:
Teams - Better collaboration tools
Delve - Unleash the power of proactive search
Groups - A new level of collaboration
Planner - A better way to complete projects & tasks
Admin Enhancements
Plus more!
VIEW WEBINAR & SLIDES
Do you know what you already own?
Many organizations deploy Office 365, but only use Exchange. There are so many other applications within Office 365 like Groups, Sway, Video, and Delve that have been designed to help your users be productive.
In this on-demand webinar, Microsoft and Microsoft Cloud Consumption Partner of the Year, Interlink Cloud Advisors showcase the features and resources Office 365 (E3 plan) includes beyond Exchange.
Register today if you want to find out how to get the most out of Microsoft's Office 365 for your organization.
Register now to instantly watch this complimentary information-packed webinar.