On-Demand Webinar | Everything You Need to Know About GDPR & How It Affects Your Business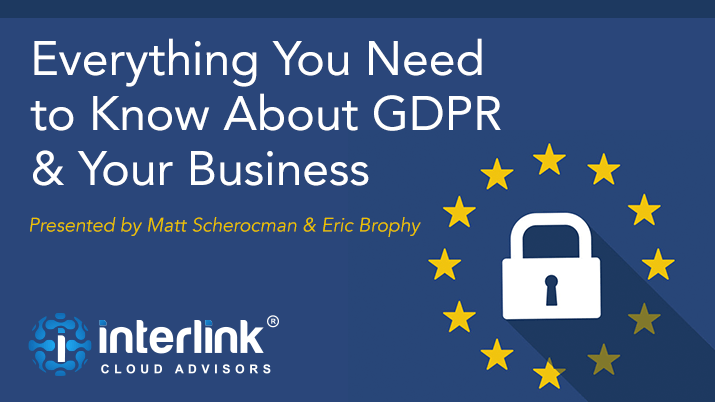 After viewing this on-demand event, you will have a firm understanding of:
GDPR requirements and how they impact your business
Key tasks each affected organization must take before May 25, 2018
Microsoft solutions to help meet common GDPR requirements
Data protection best practices
Notification periods / requirements, and more!
VIEW WEBINAR & SLIDES
Are you prepared for GDPR?
In May 2018, the EU General Data Protection Regulation (GDPR) comes into effect. This new privacy regulation will permanently change the way you collect, store and use customer data for any European citizen or company.
Prepare yourself now by viewing on-demand event by Microsoft and Interlink Cloud Advisors that provides you with an in-depth overview of the GDPR regulations, including high-level requirements, penalties, and what you should be planning for.
Our data protection and information security experts take you through compliance requirements and scenarios and the demonstrate the Microsoft tools available to help drive compliance across your entire IT enterprise including Office 365, on premises, and third-party cloud solutions.
Take your first steps towards GDPR compliance. Register now to instantly watch this information-packed webinar and download the slide deck.