On-Demand Webinar: Everything You Need to Know About Office 365 E5
Hosted by Matt Scherocman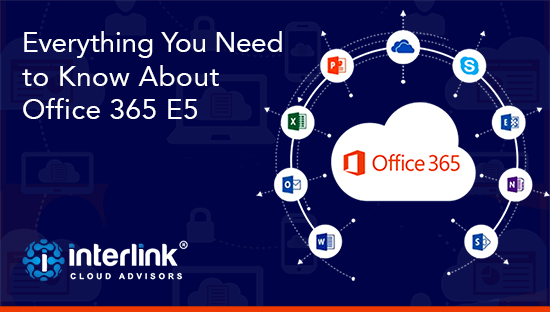 WHAT YOU'LL LEARN
Voice in the Cloud: Roadmap and overview

Reduce Legal Expenses: Advanced eDiscovery

Enhanced Knowledge: Business Intelligence

Reduce Risk: Better control your cloud data

Improved Protection: Reduce ransomware and malware

Data Security: Control access to your data

New E5 Licensing: Your options and new bundles
LIVE DEMOS, INCLUDING:
Skype Voice Console, Advanced eDiscovery, Delve Analytics, and Power BI!
VIEW WEBINAR & SLIDES
Microsoft's new E5 bundle has a ton of functionality, but is it right for your business?
With several Office 365 plans to choose from, figuring out which Office 365 plan is right for your business can be confusing.
In this on-demand webinar, Microsoft and Microsoft Cloud Consumption Partner of the Year, Interlink Cloud Advisors will help you understand all of your options around Office 365 – including renewal. Through a series of live demos and an interactive Q&A session, Interlink will show you everything you need to know about the new Office 365 and how (and if) your business can benefit from it.
Register now to instantly watch this complimentary information-packed webinar and download the slide deck.