WEBINAR | Power Platform 201 - Discovering the Value of the Power Platform

Power Platform is a suite of low-code/no-code tools that allows you to quickly create custom business processes and applications.
The Power Platform includes Power Apps, Power Automate, Power BI, and Power Virtual Agents. Utilizing the Power Platform connects your business processes and critical applications in a more easily maintainable, scalable, and streamlined solution.
In this on-demand event, Interlink's experts walk you through how your organization can better understand and leverage your data. This will drive business value – saving your organization time and money through powerful insights and automation.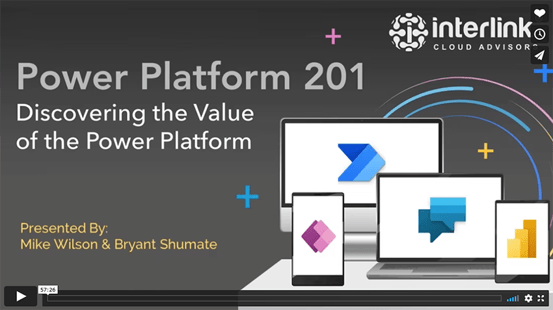 You'll also walk away with an understanding of:
Power Automate: Business Process Automation and connecting despaired applications
Power Apps: Low-code and mobile-friendly custom applications
Power BI: Turning data into actionable information and insights
Power Virtual Agents: Scaling employees and empowering users with intelligent chatbots
Security and Governance
Empowering Your Users: Both the citizen and professional developer
Funding/Licensing
And Much More!
If your organization is looking to transform the way your business operates - view this webinar and slide deck today!
PRESENTER INFORMATION
Mike Wilson
Vice President/CTO | Interlink Cloud Advisors
Bryant Shumate
Collaboration Practice Lead, Interlink Cloud Advisors
Related Posts
Welcome to the Interlink Cloud Blog
Subscribe to our blog
By subscribing to the blog, you will be notified whenever a new blog post is created on the site.
All content provided on this blog is for informational purposes only. The owner of this blog makes no representations or warranties regarding the information from our partners or other external sources.