Microsoft Teams Governance and Automation Engine Engagement
Many companies are finding that Microsoft Teams can cause a mess and slow business productivity if a proper process is not invested in.
Utilize the Power Platform to transform how your organization uses Microsoft Teams through Governance and Automation.
_______________________________________________
Microsoft Teams
Microsoft Teams provides a place for your team to collaborate on projects through unified communication, which increases user and business effectiveness. A lack of governance in Teams can cause a hindrance in business productivity, and ultimately become a mess to clean up. From lack of naming conventions to too many groups, investing in your organization's process will save your team headaches and enable users to be more productive.
Deploying and configuring Microsoft Teams is a process, and to be optimized and used well, demands both governance and user awareness of tools. Organizations need to have a clear vision of how Teams will benefit and serve their users. Additionally, using the Power Platform to bring automation and standardization of this process ensures that these tools can further increase productivity – which saves your organization time and money instead of adding clutter, confusion, and technical debt.
Governance in Teams
The Power Platform can be harnessed to create effective governance by creating a repeatable and streamlined process of Microsoft Teams creation and deployment. Teams is a multi-functioning collaboration platform, but managing an organization-spanning Teams environment is no easy task. Strong governance measures must be in place to contain sprawl, secure data, and ensure efficiency. Here are just a few decision points your organization should be considering:
How will your organization limit who can create a team or group?
Does your organization require a specific naming convention for Teams?
Will your organization want to limit Teams' features for specific users or the entire tenant?
Do Teams creators need the ability to assign organization-specific classifications to teams?
Do you need to restrict the ability to add guests to Teams on a per-team basis?
Automation in Microsoft Teams
The Power Platform can also transform your organization through automating the creation and deployment of Microsoft Teams. Is your organization harnessing the true value of the Power Platform and Microsoft Teams to enable optimized collaboration and productivity? Stop hindering your organization's collaboration process. With the Teams Governance and Automation Engine, Interlink can customize a Teams Approval Form based on Power Automate for your specific business environment. Save time through efficient automation (as easy as one click!) and money through the standardization of business processes, which ultimately reduces risk and increases user productivity.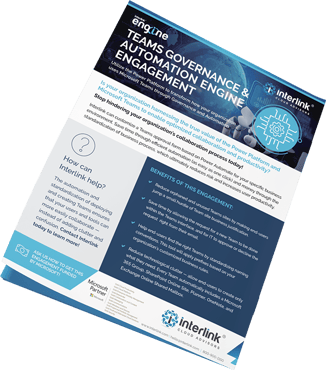 Reduce orphaned and unused Teams sites by making the end-users jump a small hurdle of Team site business justification
Save time by allowing the request for a new Team to be requested within the Teams interface, and for IT to approve or decline the request – right from their email
Help end users find the right Teams by standardizing naming conventions. This tool will apply prefixes based on your organization's custom business rules
Reduce technological clutter – allow end-users to create only what they need. Every Team automatically includes a Microsoft 365 Group, SharePoint Online Site, Planner, OneNote, and Exchange Online Shared Mailbox automatically
How Interlink Can Help
Our Teams Governance and Automation Engine offering is designed specifically to address these common pitfalls we see organizations struggling with. The automation and standardization of deploying and creating Teams ensures that your users and tools can more easily collaborate – instead of adding clutter and confusion. Contact Interlink today to learn more!
View the full offering details of Teams Governance and Automation Engine here. Your organization may also be eligible for Microsoft funding.
About the author
Bryant is the Collaboration and Power Platform Practice Lead at Interlink. He specializes in SharePoint and has been working with the software for 15+ years. Bryant is an avid runner and enjoys giving back to the community through local youth sports organizations. 
Related Posts
Welcome to the Interlink Cloud Blog
Subscribe to our blog
By subscribing to the blog, you will be notified whenever a new blog post is created on the site.
All content provided on this blog is for informational purposes only. The owner of this blog makes no representations or warranties regarding the information from our partners or other external sources.