The Demands on Your IT Systems Never Stop
The need for better performance, more security and increased reliability are only some of the challenges an organization can face, but you don't have to spend all your time playing catch-up. Put a system with advanced security and reliability in place and you can reduce opportunities for attack and recover faster. Losing access to critical systems would mean loss of revenue, lost customers, and possibly even going out of business. Our businesses have evolved to the point where manual paper processes no longer exist. This makes offsite backup and disaster recovery an absolute necessity.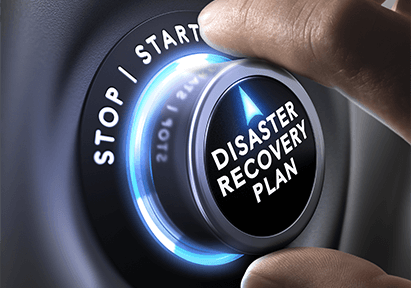 Microsoft Azure


Modern Offsite Backup and Recovery Solutions

Data should be stored on a robust, secure and reliable platform that you can easily afford. Routine off-site backup, as well as a procedure for activating vital information systems quickly in a new location, are critical to the smooth running of a company.

Traditionally, tape has been used for long-term retention. Now, modern Offsite Backup and Recovery through Azure gives you a compelling alternative to tape with data that is more reliable, available, scalable, secure and stored offsite.
Azure Backup Offers
Scalable
Azure will always have enough capacity to back up your workloads on demand

Reliable
Disk-to-disk backup strategies enable high levels of fidelity between the original and copied source

Secure
Azure utilizes the same secure identity management system as Office 365 and supports encryption both in transit and at rest

Available
Azure offers extremely high levels of uptime and availability

Offsite
Azure is inherently offsite. You can pick your datacenter geographic locations and setup workloads to copy to datacenters in other disparate geographic locations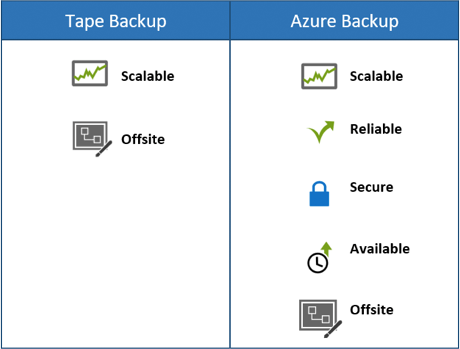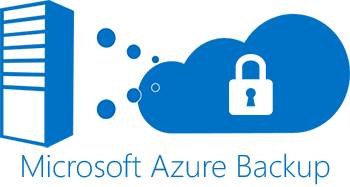 Plus, you don't have to hassle with handling tapes, sourcing them, rotating them, or taking them offsite. More importantly, the exact tape drive doesn't have to be found to complete a restore.
---
Options for Backup and Recovery

Orchestrate the recovery of your apps for simplified disaster recovery
Improve Recovery-Time-Objectives (RTO) and Recovery-Point-Objectives (RPO) for both planned and unplanned outages
Achieve zero impact disaster recovery drills
Minimize app errors and data loss with application consistent recovery points
Replication for heterogeneous environments: Hyper-V, VMware, and physical
Plus, Azure Site Recovery can also be used as a migration tool. Once the data has been synchronized with Azure, a failover can be invoked. Then after the virtual machine is running in Azure, the end user can be given a chance to test the workload in Azure and ensure that it will perform well for them long term or the workload can be failed back to its original location. Copies of the virtual machine can also be made to ensure that the production workload can continue to run while testing is occurring.

Automatic storage management with a pay-as-you-use model
Unlimited scaling with the Azure cloud
Multiple storage options (locally redundant or geo-redundant
Unlimited data transfer
Data encryption for secure transmission and store of data
Application-consistent backup, which leads to reduction in restoration time
Both short-term and long-term retention with variable pricing models
Use Operations Management Suite to license Azure Backup and Azure Site Recovery, so you can manage your environment regardless of location, OS, hypervisors or cloud provider choices.
Integrate and license Azure systems to create a unified solution to manage your backup and recovery regardless of location, OS, hypervisors or cloud provider choices.
Learn more by viewing our On-Demand Webinar: Microsoft Azure Disaster Recovery Scenarios - with Demo
---
Contact us today to determine the best storage method to make sure your data is readily available and highly secure.