Office 365

Exchange

Disaster Recovery

Windows Servers
SharePoint

End User Desktops

Skype for Business/Lync

Backups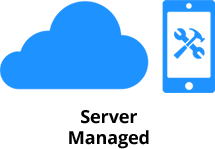 Managed Services and the cloud are better together!
Servers are monitored and maintained 24x7x365
Best practices utilized from an experienced firm that sees multiple environments
Leverage monitoring to proactively resolves issues before they cause down time
Ensure that servers are running at peak performance
Outsourcing server support and maintenance is a commodity - no business knowledge needed
Reduce operational costs while increasing network and application reliability
Increase security while software is updated and patched regularly
Let's face it. Your team knows your business better than anyone else, yet their time is being spent doing necessary, but repetitive commodity tasks like patching servers and performing preventative maintenance.
Refocus your team on the things that matter most and outsource the tasks that consume valuable time to the experts who can leverage industry best practices and economies of scale to maximize the uptime of your environment.
We've Got
IT Covered
24 x 7 x 365 monitoring of your server and application infrastructure


Proactive fixes for issues that are identified


Asset management of parts before they fail and cause critical downtime


Automatic patching and software updates – help ensure that your network is protected and defended against malware, spyware, and viruses


Quick remote support – the ability to see what you are seeing quickly. Our technical team can put eyes on your issue and get it resolved
Controlled IT costs - no surprises on your bill


Service Levels
We will help you find the plan that fits!
Silver



MONITOR
24x7x365 System monitoring - helps find concerns before they become issues and respond quickly when there is a problem
Preferred rates and response times for remediation
Gold


MONITOR & PATCH
All Silver benefits included
Automated system patching - stay secure and improve uptime by regularly deploying updates to system and antivirus
24x7 Remote Support
Escalated Microsoft Support
Platinum


MONITOR, PATCH, MAINTAIN
Interlink takes on full responsibility with a defined service level agreement (SLA) and uptime associated with it
All Gold benefits included
Interlink provides for a 99.9% uptime guarantee
No surprise bills - whatever attention is needed on the servers will be handled and included in the cost
Interests are aligned - Interlink is paid when the infrastructure is up and running
Guaranteed fastest response - 1-hour SLA for critical issues 24x7x365
Why Interlink?
Because technology services are important to your business, you want the best team maintaining them. You want experts and you also want someone who will understand and prioritize your business - someone who will treat you as a partner. Interlink is dedicated to the success of your business!