Microsoft Office 365 Readiness tools
On-Demand Webinar: Microsoft Azure Real World Scenarios
Co-Presented by Matt Scherocman and Mike Wilson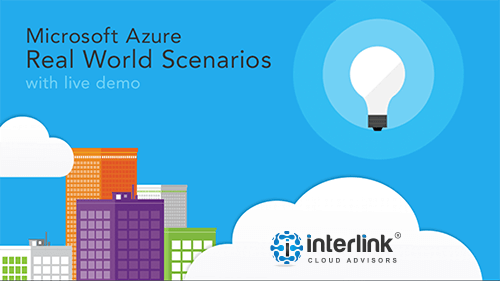 WHAT YOU'LL LEARN
Covering some of the most common workload scnearios and questions, including:
Speed to market - quickness of setting up and provisioning a server with Azure [demo]

Protecting data with off-site backups

Business continuance and disaster recovery

Cost-effective, on-demand dev/test environments

Funding available from Microsoft
VIEW WEBINAR & SLIDES
Whether you have already started moving workloads to the cloud or are just getting started, this webinar offers some best practices and insights into promotions that can further accelerate your cloud projects.
In this on-demand webinar Microsoft and the Microsoft Cloud Consumption Partner of the Year, Interlink Cloud Advisors, will showcase the impact the Azure cloud platform can have across a variety of workloads through a live demo.
Designed for all business and IT professionals, this session walks you through the Azure platform and how you can use it to can extend your data center, while working seamlessly with your existing tools and infrastructure.
Register now to instantly watch this complimentary information-packed webinar
On-Demand Webinar: Office 365 - Amazing New Features You've Never Seen
Presented by Matt Scherocman
WHAT YOU'LL LEARN
LIVE DEMOS, INCLUDING:
New E5 Licensing – Your options

Office 2016 – New features

OneDrive Updates – Improved sync & mobile clients

Sway – Quickly present mobile & web friendly data

Delve – Unleash the power of proactive search

Skype for Business – New options for conferencing & telephony

Groups – A new level of collaboration

Admin Enhancements – Plus more!
If you think Office 365 was good before, you're really going to love it now.
VIEW WEBINAR & SLIDES
STAY UP TO DATE ON OFFICE 365'S NEW FEATURES AND FUNCTIONALITY
Office 365 is constantly being updated and improved. The platform's productivity tools have proven their ability to better connect teams and simplify collaboration in the workplace. Yet, many companies are not taking advantage of all the functionality O365 has to offer - mostly because they don't know they exist.
In this on-demand webinar Microsoft and the Microsoft Cloud Consumption Partner of the Year, Interlink Cloud Advisors, will show you just how to move beyond the basics of Office 365 and extend the value to your business. Both existing Office 365 and new 365 clients will benefit from this event.
In this free interactive session, Interlink will reveal you how to get the most out of Office 365 through product overviews and live demos. You'll also get the low down on the new E5 licensing options and Microsoft funding that is available to your company.
Register today if you want to find out how to get the most out of Microsoft's Office 365 for your organization.
Register now to instantly watch this complimentary information-packed webinar