What New Features Have Been Added to Skype for Business Mobile?
The latest release of Lync mobile includes a number of new features – first, Lync Mobile now provides the ability to view uploaded PowerPoint presentations from your Windows Phone or iOS device. While Lync Mobile has previously allowed users to view shared desktops, this new functionality allows Mobile users to view PowerPoints that have been uploaded to take advantage of functionality such as Q&AS and imbedded multimedia files.
A screenshot of the shared PowerPoint as it would be viewed from a Windows Phone is below: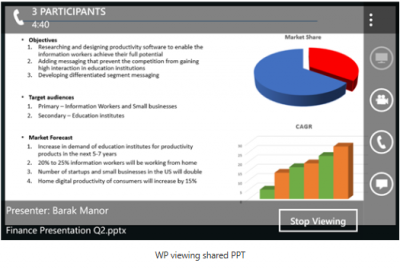 Other new features allow Windows Phone users to control Lync using voice commands. This is helpful if you, like me, often use your phone to join Lync meetings while driving. Instead of searching through your phone, now all you need to do is hold down the home key and say "Lync, join my next meeting" or "Lync, join my current meeting". Note this added functionality is for Windows devices only.
There is also a new GUI for Lync on iOS 7 devices: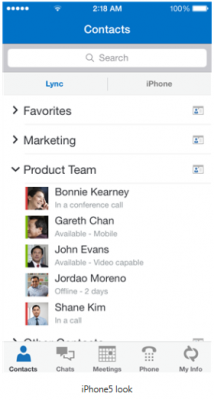 The full press release can be found here
This posting is provided "AS IS" with no warranties, and confers no rights.
About the author
At Interlink, Sarah serves as the Operations Manager as well as a Senior Director of Client Engagement working with a broad spectrum of clients across Ohio, Kentucky and Tennessee, focusing in Cincinnati and Kentucky. She has a decade of experience in Office 365 Migrations, managed services, vendor relationships and product hardware quoting and purchasing. She is responsible for overseeing Microsoft partner relationships and strives to build meaningful, positive relationships with our clients.
Related Posts
Welcome to the Interlink Cloud Blog
Subscribe to our blog
By subscribing to the blog, you will be notified whenever a new blog post is created on the site.
All content provided on this blog is for informational purposes only. The owner of this blog makes no representations or warranties regarding the information from our partners or other external sources.