What's New with Microsoft Teams Phone Licensing
Microsoft has recently updated the licensing around their telephony SKUs, which directly translates to increased ROI for many users. For example, while some offerings have dropped by $1 per user per month, saving money across the board, some calling plans have seen even more significant price changes, dropping by as much as 25%.
Curious to learn how the changes affect you? In the video below, Interlink's Voice Practice Lead, Aaron Seals, breaks down what the changes are as well as their expected impact: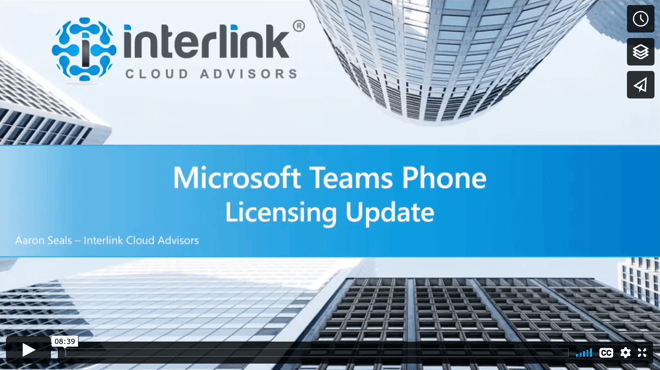 Learn More
To learn more about Teams Calling solutions for your organization, contact Interlink today!
About the author
Chase Jeffries is the Marketing Manager at Interlink. He brings over five years of B2B marketing experience across a wide array of industries to the team, along with a degree in Marketing and International Business from the University of Cincinnati. When he isn't directing marketing efforts at Interlink, you can usually find Chase writing music with his rock band or drinking too much coffee.
Related Posts
Welcome to the Interlink Cloud Blog
Subscribe to our blog
By subscribing to the blog, you will be notified whenever a new blog post is created on the site.
All content provided on this blog is for informational purposes only. The owner of this blog makes no representations or warranties regarding the information from our partners or other external sources.