The Future of SharePoint - My Verdict
I had the distinct honor of attending the Future of SharePoint event in San Francisco this past Wednesday May 4th. I was able to get in early enough to snag a seat on the front row as me and 99 other customers, press, and MVP's witnessed the public announcement of information that had previously been under NDA. Finally, when my customers ask questions about mobile I can say more than "just wait" or when they ask about development I can say more than "trust me." Do you realize how hard it is for me to keep a secret???
Anyway… for the next couple of hours we listened to Microsoft give an overview of everything that's coming for SharePoint. It took 2 hours just to scratch the surface. So yeah, there's A LOT coming. I won't go into great detail about all of it because there are countless blog posts out there now on the different topics. I will link to those so you can find out more information. Rather than add to what's already been said ad nauseam, I wanted to give my own thoughts and insights on what I'm seeing from Microsoft and the future of SharePoint.
Check out all of Microsoft's blogs and videos about the new features of SharePoint.
What others in the community are saying about the future of SharePoint

What Stood Out to Me
I think the big takeaway for me is that SharePoint is back… with a vengeance. There were whispers, okay... not whispers, but people shouting from the rooftop that SharePoint was dead! On-Premises was dead! We're all doomed! Time to find another technology to pin all our hopes and dreams on. I mean just look, the link to SharePoint in Office 365 was called "Sites." Obviously Microsoft was trying to kill SharePoint (that's sarcasm by the way). However, it's absolutely clear now that Microsoft is dedicated to SharePoint. They've changed that "Sites" link to "SharePoint," and they already announced there will be ANOTHER release of SharePoint. Jeff Teper proudly proclaimed "SharePoint is the core of Office 365." This is really great news for companies that have invested so much time and talent into SharePoint, and it's nice to know that Microsoft has embraced SharePoint again.
Several other items really stood out to me.
A Mobile App!
What are our clients most excited about? Easily it's the new mobile app. Finally! (I'm not going to say "Intranet in my pocket") But finally! A real mobile experience. We no longer have to hack master pages or tell customers that there really is no good story. The new mobile app will work with existing team sites too, so don't worry about having to rewrite all your team sites to get a mobile experience. Find out more about the new mobile story on SharePoint—the mobile and intelligent intranet.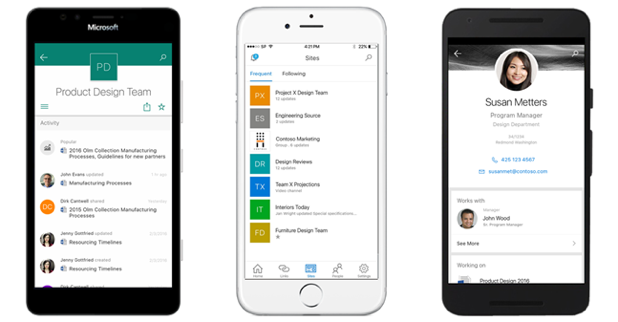 The SharePoint Framework
Microsoft has introduced another approach to development in SharePoint called the SharePoint Framework. I know what you are thinki
ng, "ANOTHER development model?
" It's true, if you are counting
,
there are now 4 development models for SharePoint. Some of you may be getting fatigued and frustrated by all the changes, but I
,
for one
,
am actually excited about this one. The new approach is 100% JavaScript and will make it easy for dev
elopers
to create functionality for the team sites, library, and list pages. It fits more closely with how many developers want to develop in SharePoint and it's much more integrated than a SharePoint Hosted Add-In! (hallelujah).
Let's face it, unless you were a software vendor or a large enterprise customer there's a very good chance you never touched the Add-In model. I just couldn't get behind it f
or a lot of my customers because it rarely ever made sense to spin up a server in Azure just to implement a small piece of functionality in SharePoint. It was just an overly complicated process. The SharePoint Framework really solves a huge development problem for small and medium sized businesses. I'm not exactly sure how the ISV's can embrace the new model, and this is actually a concern for me with 
StratusForms
, but I don't have the full story yet. I will be watching it closely though.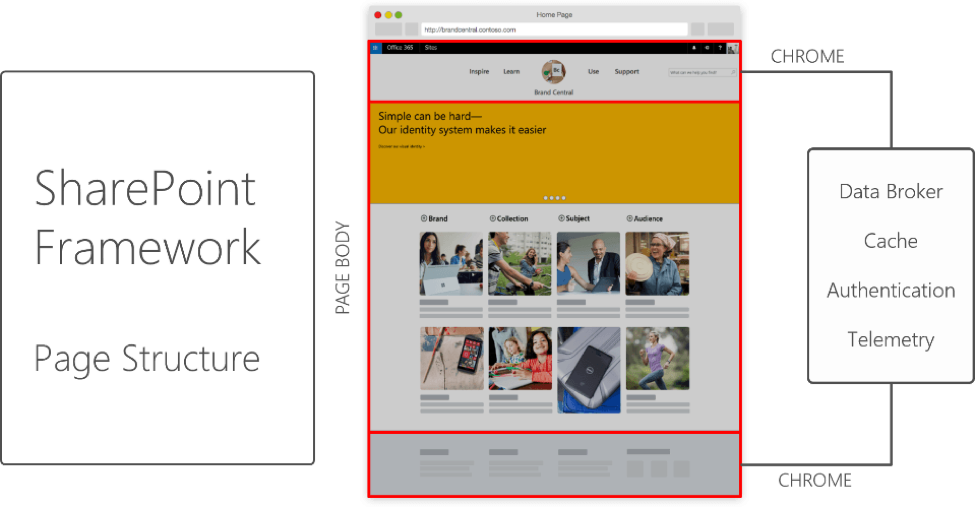 It's important to note that being 100% JavaScript means you won't be able to do things like elevate permissions and long running operations would be better accomplished with some external API. Check out the blogs below for more Information. There's already a TON of great content out there for learning more about the SharePoint Framework and how to get started.

On-Premises Gets Some Love…Eventually
Many of our clients are
On-Premises and
a common question that comes up is
"Why
isn't Microsoft
talking about on-premises more"? What really stood out to me here is that fact that Microsoft is no longer saying "SharePoint Online" and "SharePoint On-Premises" they are simply saying "SharePoint". This indicates to me that rather than ignoring on-premises, what they are doing is making on-premises on par with online. It's just SharePoint!
As far as WHEN you get those online features on-premises, that's another story. Microsoft will be releasing new features to on-premises customers as feature packs starting in 2017. The only caveat here is that these customers MUST have Software Assurance. Microsoft is pretty tight lipped about exactly WHEN specific features will be released in which
stinks,
but they have confirmed that the
m
obile app and the SharePoint Framework will be there.
Key Takeaways
SharePoint is not dead - there is a future in SharePoint
OneDrive App integration with SharePoint Document libraries looks pretty seamless
It's Groups AND Team Sites, not Groups OR Team Sites
There's finally a good mobile story
Team Sites can be created in 5 seconds… Holy sprawl batman… MAKE SURE YOU HAVE GOVERNANCE IN PLACE!
On-Premises features will come as feature packs for SA customers starting in 2017
Finally, it is important to note that none of these changes affect you today. You have time to get ready. You will have "classic mode" to fall back on for quite a while. So, if you are worried about any branding or customizations, maybe you should be, but don't panic. Simply reach out to a competent resource to help guide you along the way, and once you get to your destination you will be pleasantly surprised. This is the most optimistic I've been about SharePoint in a long time.
Finally Finally…
Overall, the Future of SharePoint event in San Francisco really was a great one and completely worth the cross country trip to be there and be a part of it. 5/4/2016 really was one of the biggest days in the history of SharePoint with some of the most dramatic updates ever. For the first time in a while, SharePoint feels modern and not two versions behind, and it feels like it is future focused. The future of SharePoint is bright and I'm looking forward to being a part of it!
Related Posts
Welcome to the Interlink Cloud Blog
Subscribe to our blog
By subscribing to the blog, you will be notified whenever a new blog post is created on the site.
All content provided on this blog is for informational purposes only. The owner of this blog makes no representations or warranties regarding the information from our partners or other external sources.