The Azure Hybrid Use Benefit – Don't Purchase Windows Server Twice

One of the primary reason companies move their software to the cloud is because of the cost savings, but there are still ramp-up expenses to consider even if it's not a capital expense anymore. As companies undergo the transition to the cloud, whether it be a hybrid solution or all in the cloud, every little bit of savings counts.
Until now, many organizations have owned Windows Server licensing through a licensing agreement and then purchased access to Windows Server again when they setup a new virtual machine on Azure. Many clients were paying for the same functionality twice!
The Azure Hybrid Use Benefit has changed all of that. As of February 1, 2016, the Azure Hybrid Use Benefit lets those owning Windows Server Licenses with Software Assurance to use that existing license on Azure, which saves money. For each Windows Server 2 processor license with Software Assurance, customers may run two virtual machines with up to 8 cores each or one virtual machine with up to 16 cores.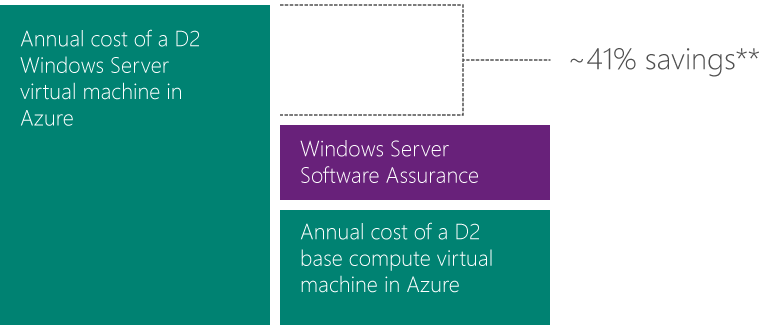 * Savings based on a D2 instance in US East 2 Region, operating at the full time hourly rate, and including the cost of Software Assurance. (source)
Next Steps
The Azure Hybrid Use Benefit is Microsoft's effort to help you get the most value from licenses, on-premises and in the cloud. But first find out…
Do You Qualify? The Azure Hybrid Use Benefit is currently available for customers with Windows Server licenses covered with Software Assurance.
What Next? The Azure Hybrid Use Benefit is applied by creating a Windows virtual machine through PowerShell and setting the new license Type property for each virtual machine. Windows virtual machines with the new property are billed at the base compute rate, with a specific notation in the bill that the benefit has been applied.
Do you want to save with this new Azure Hybrid Use Benefit? Check out the FAQ here and contact us to learn more!
* Base compute rate is described in the FAQ.
About the author
Matt Scherocman brings more than 25 years of experience in the information technology industry to Interlink Cloud Advisors. His experience includes both the system integrator and manufacturer sides of the business. During his time at the Microsoft Corporation, he was responsible for all the Large Account Reseller (LAR) relationships in the four state Heartland Area of Michigan, Ohio, Kentucky, and Tennessee. Prior to Microsoft, Scherocman led a Cincinnati based IT consulting company to grow 5000% and become a Microsoft Worldwide Partner of the Year. He is actively involved in the strategic vision and operation decisions of the company including finance, selling strategy and marketing. Matt holds a Bachelor of Science in Business degree from Miami University and is a Certified Expert in Microsoft licensing including speaking engagements at both Microsoft's Worldwide Partner Conference and Channel Partner Summit. He is a frequent contributor to leading industry publications.
Related Posts
Welcome to the Interlink Cloud Blog
Subscribe to our blog
By subscribing to the blog, you will be notified whenever a new blog post is created on the site.
All content provided on this blog is for informational purposes only. The owner of this blog makes no representations or warranties regarding the information from our partners or other external sources.