Six Reasons Microsoft Azure SQL Database Provides the Best Data Security Around
Companies leveraging the cloud for business have a multitude of options. They also have a lot of security concerns when transitioning their data to the cloud. Microsoft has built on the SQL Server foundation, bringing a new level of security to help ease the mind of these cloud-driven companies with six enhancements. All of which are crucial reasons to consider Microsoft Azure SQL Database as your company's cloud platform of choice:
Both features are great examples of how users can monitor and quickly respond to risk. Advanced Threat Analytics is yet another approach to helping users stay ahead of sophisticated malware attacks.
Another (bonus) reason to consider Azure SQL Database that's best shared through this diagram, courtesy of Microsoft Azure, is that SQL Server's track record speaks for itself. When you're in the cloud, you can't be vulnerable and SQL Server lives up to that motto…six years running!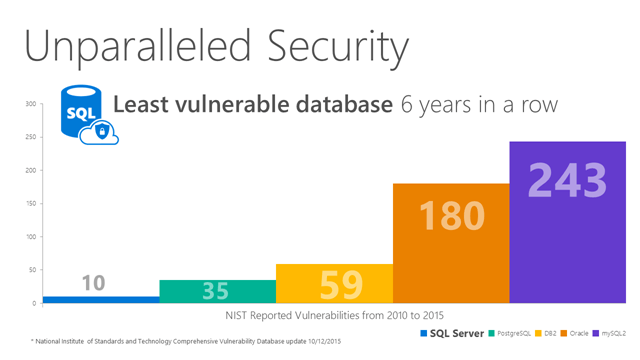 Data security in the cloud isn't a set it and forget it process. It is a constant work in progress because the security risks keep changing and technology keeps advancing. Choosing Microsoft as your partner in mitigating those risks is a smart and educated decision in keeping your data safe.
Learn more about these security enhancements by downloading the Security and Azure SQL Database whitepaper and contact us at Interlink for more information.

Related Posts
Welcome to the Interlink Cloud Blog
Subscribe to our blog
By subscribing to the blog, you will be notified whenever a new blog post is created on the site.
All content provided on this blog is for informational purposes only. The owner of this blog makes no representations or warranties regarding the information from our partners or other external sources.