FindTime: Scheduling a Meeting Just Got a Whole Lot Easier
FindTime for Office 365 Makes Scheduling a Meeting Easy
Scheduling across multiple organizations can be a difficult process. A one-hour meeting with seven people from two different companies can take weeks to schedule. For the meeting organizer, planning a meeting between multiple third party representatives is a tiresome game of phone and email tag. For the attendees, it's equally as frustrating. Just as soon as the business calendar is being updated, an email storms the inbox, stating that someone forgot to check a calendar and a new meeting time is needed.
Those who have gone through this process frequently find themselves saying, "There has to be a better way to schedule these meetings."
Scheduling FOR the People
With the addition of Microsoft's FindTime to the Office 365 suite, a better way to schedule meetings across organizations exists. FindTime is a free Outlook add-in that gives meeting organizers and attendees the flexibility to schedule a time that works for everyone. FindTime reduces the amount of phone calls and email clutter that piles up during the scheduling process.
How does FindTime work?

FindTime is a plugin for Outlook with Office 365.
You can either start a new message or reply with a meeting poll.
Next, it automatically looks at your calendar and the calendars of people in your organization, and show times when all invitees are available.
The coolest part is...the application emails the "poll" to the other parties and lets them select the times they are available, along with the ones that they prefer the most.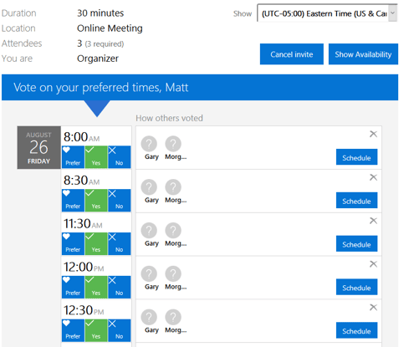 FindTime is a welcomed tool for sales teams, product managers, business developers, and any other business units that require meetings with other organizations.
To use FindTime, the organizing party must have an active Office 365 subscription and be using Outlook. However, attendees don't need an Office 365 subscription and they don't have to be using Outlook. FindTime transforms multiple party scheduling by seamlessly working across different email service providers, devices, and organizational sizes and structures.
With FindTime, organizers and attendees can focus their time and resources on how to make meetings productive, not how to make them happen.
About the author
Matt Scherocman brings more than 15 years of experience in the information technology industry to Interlink. His experience includes both the system integrator and manufacturer sides of the business. During his time at the Microsoft Corporation he was responsible for all the Large Account Reseller (LAR) relationships in the four-state Heartland Area of Michigan, Ohio, Kentucky, and Tennessee. Prior to Microsoft, Scherocman led a Cincinnati -based IT consulting company to grow 5000% and become a Microsoft Worldwide Partner of the Year. He is actively involved in the strategic vision and operation decisions of the company including finance, selling strategy and marketing. Matt holds a Bachelor of Science in Business degree from Miami University and is a Certified Expert in Microsoft licensing including speaking engagements at both Microsoft's Worldwide Partner Conference and Channel Partner Summit. He is a frequent contributor to leading industry publications.
Related Posts
Welcome to the Interlink Cloud Blog
Subscribe to our blog
By subscribing to the blog, you will be notified whenever a new blog post is created on the site.
All content provided on this blog is for informational purposes only. The owner of this blog makes no representations or warranties regarding the information from our partners or other external sources.