On-Demand Webinar | How to Drive Compliance & Security to the Cloud with Office 365
On-Demand Webinar & Slides
---
Are you worried about being vulnerable to an attack in your cloud-based environment? Need help to ensure compliance with outside regulations?
Join Microsoft and Microsoft Gold Certified Office 365 Partner - Interlink Cloud Advisors - in this on-demand event, for an overview of the powerful benefits of Microsoft's all-new Office 365 E5 Suite's security and compliance technologies. See for yourself how Microsoft's advanced tools can be used to protect your environment and make it more secure to help ensure compliance with outside regulations.
During this on-demand event, you'll see demos of Cloud App Security, Lockbox, Compliance Center, and Advanced eDiscovery, and we'll also discuss how you can use these technologies to:
Drastically reduce the threat of ransomware
Be alerted when risky behaviors are occurring with Office 365 compliance center
Complete eDiscovery requests faster and with more accuracy
Identify the cloud services that your users are consuming today – frequently without your knowledge
Better enforce policies
Ensure that Microsoft isn't accessing your information without your approval
Watch this information-packed webinar and download the slide deck now!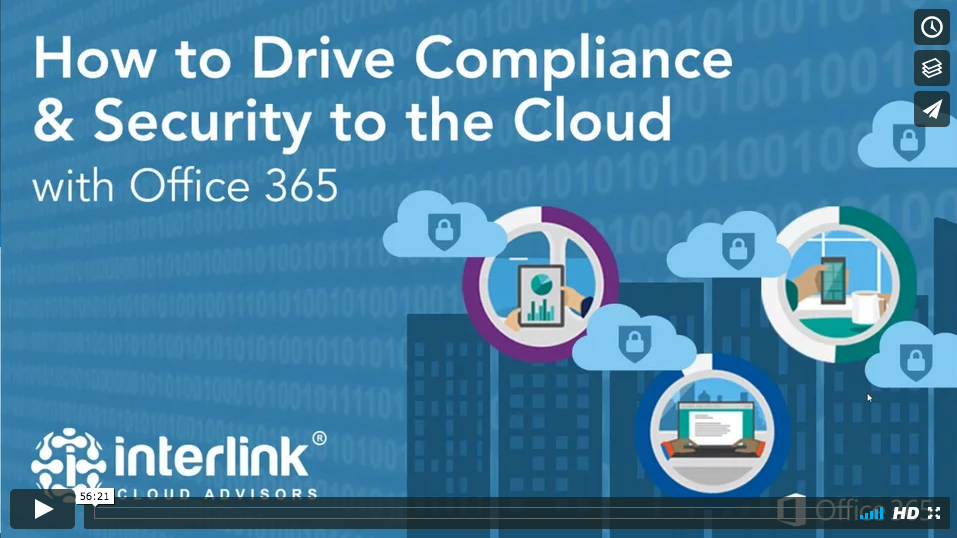 ---
SPEAKERS
Eric Brophy
Eric Brophy is a Senior Consultant for Interlink who has helped more than a hundred clients migrate their workloads to the cloud. He is badged by Microsoft and certified in their cloud technologies.
Matt Scherocman
President, Interlink Cloud Advisors
Microsoft certified expert in cloud and licensing technologies. Matt uses his 20 years of experience to guide customers on their cloud journey
About the author
At Interlink, Sarah serves as the Operations Manager as well as a Senior Director of Client Engagement working with a broad spectrum of clients across Ohio, Kentucky and Tennessee, focusing in Cincinnati and Kentucky. She has a decade of experience in Office 365 Migrations, managed services, vendor relationships and product hardware quoting and purchasing. She is responsible for overseeing Microsoft partner relationships and strives to build meaningful, positive relationships with our clients.
Related Posts
Welcome to the Interlink Cloud Blog
Subscribe to our blog
By subscribing to the blog, you will be notified whenever a new blog post is created on the site.
All content provided on this blog is for informational purposes only. The owner of this blog makes no representations or warranties regarding the information from our partners or other external sources.