Microsoft Teams: Collaboration in the Modern Workplace
For any organization, it is incredibly important to have a system in place that enables employees to be efficient and productive. In most cases, employees take it upon themselves to use applications, usually unknown by the organization, to help manage their tasks and collaborate with their teams more efficiently. This presents a big issue for organizations because their employees use unauthorized and potentially unsecured applications, which can result in the data leakage of secured documents. So, how do you enable your employees to collaborate effectively while making sure they are productive? Microsoft has you covered with their approach to the Modern Workplace and their integration of products such as Planner, OneNote, SharePoint, and many others into their collaboration tool Microsoft Teams.
So, what is Microsoft Teams? If you have not already read our blog Microsoft Teams | A Hub for Teamwork in Office 365, it's Microsoft's new chat-based work space in Office 365 that brings conversations, content, and people together, all in one place, so they can easily collaborate more. It truly feels like the future of workplace collaboration with everything you need built right in.
Wondering what Microsoft Teams can do?
With its deep integration capabilities, everything.
Skype for Business is Becoming Teams
Want another reason to begin using and integrating your platforms with Teams? Skype for Business is going to be merging into Teams. At their yearly conference, Microsoft announced that they will slowly be phasing Skype for Business into Teams. During the event, Microsoft had a very clear message: they want Teams to be their collaboration application of the future.
Currently, Teams offers the following functionality:
IM and Team-based chatting
Intelligent Video/Voice Meetings, in which Teams will record, transcribe, and closed caption your meetings while surfacing relevant documents for participants
With the merging of Skype for Business, there is a lot coming to Teams, and we think it is going to make the application even more powerful.
Integration with Office 365
Teams was built to be an all-encompassing platform. Because it has so many powerful features, we think it may become the application that you use for everything. All of the Office 365 applications are all built into Teams - this is what makes it different and stand out.
Normally, you have to open all of the applications separately within Office 365. In Teams, they are all in one place, which allows users to be more productive. Instead of spending time trying to find the right tab or application, everything is now located in one cohesive place. Teams also looks to build off of the Office Groups system, so if you already have a Planner or SharePoint site for a group, you can automatically transfer this over to a team within Teams and locate all of that information there.
Microsoft Teams Integrated Applications
Are you wondering what the applications within Teams look like, and if they will function like they normally do?
The integrations within Teams are not versions stripped of their features and made to fit into Teams, instead they are full-featured applications. Below is what Planner looks like within Teams, and it looks exactly the same as the normal version.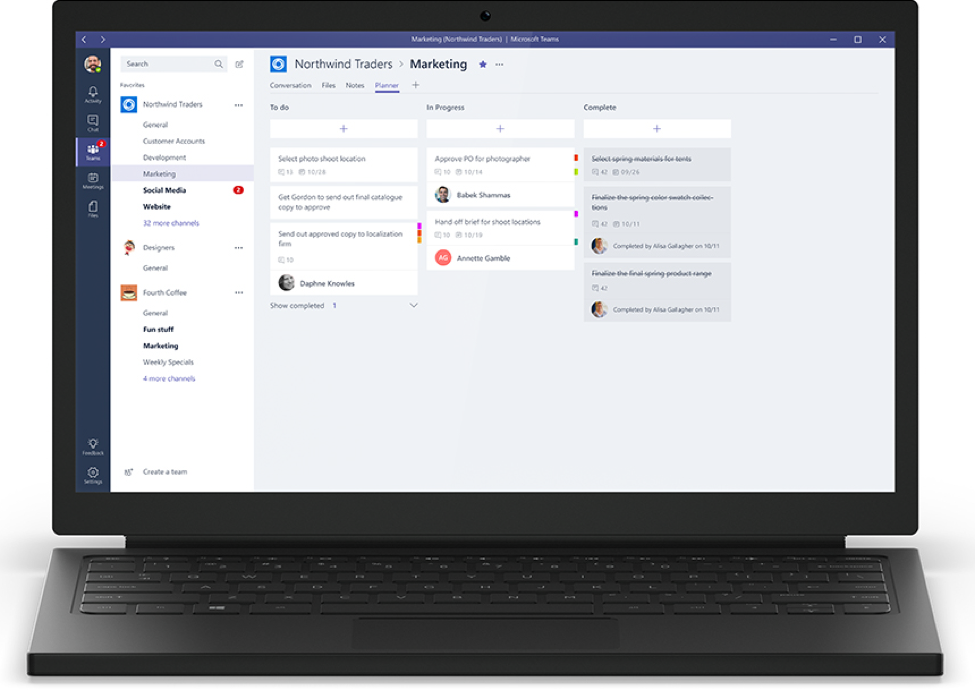 If you look at the tabs at the top, next to Planner you can see Notes and Files, which are your OneNote and SharePoint files all for that specific team. For OneNote you can view all of the notes for that team. For SharePoint, you can see all of the documents that team has used and even look according to the most recently updated. These are only a few of the applications that integrate seamlessly into Teams. Outside of other Office 365 applications such as Excel, Power BI, Delve, and others, all seamlessly integrate. There are also a multitude of other third-party applications such as HootSuite, Twitter, GitHub, and many more, which makes Teams not just a hub for Office applications but for all work space applications.
Another great feature of Teams is that every team's work space set up can be completely customized. This means that each team within your organization can make sure they are implementing the services their team uses most often, thus improving efficiency.
Whether you are using the instant messaging within your team or utilizing the the application's integration possibilities, Teams is the ideal app for collaboration within an organization!
---
Want to learn more about what Teams can do?
Contact us or check out Microsoft's in-depth documentation around Teams
About the author
Matt Scherocman brings more than 15 years of experience in the information technology industry to Interlink. His experience includes both the system integrator and manufacturer sides of the business. During his time at the Microsoft Corporation he was responsible for all the Large Account Reseller (LAR) relationships in the four-state Heartland Area of Michigan, Ohio, Kentucky, and Tennessee. Prior to Microsoft, Scherocman led a Cincinnati -based IT consulting company to grow 5000% and become a Microsoft Worldwide Partner of the Year. He is actively involved in the strategic vision and operation decisions of the company including finance, selling strategy and marketing. Matt holds a Bachelor of Science in Business degree from Miami University and is a Certified Expert in Microsoft licensing including speaking engagements at both Microsoft's Worldwide Partner Conference and Channel Partner Summit. He is a frequent contributor to leading industry publications.
Related Posts
Welcome to the Interlink Cloud Blog
Subscribe to our blog
By subscribing to the blog, you will be notified whenever a new blog post is created on the site.
All content provided on this blog is for informational purposes only. The owner of this blog makes no representations or warranties regarding the information from our partners or other external sources.