Microsoft SQL 2016, Azure, OLTP…Together?
Not a far "STRETCH" after all with SQL Server Stretch Database
As IT leaders, you have most likely experienced the huge costs associated with a "Data Warehouse" implementation. The level of complexities can grow quickly and leave you asking yourself many difficult questions such as:
Do I need to hire Cube developers?
How much local storage do I need?
Will I need another Enterprise SQL server to run the SSAS engine?
And finally…
So many questions with high associated costs can negatively affect your projects and budgets. This leads us to the next question.
What if you could affordably store your data offsite and still connect to the database? Would that even be possible?
Great news! You absolutely can, and it's very affordable!
Microsoft SQL 2016 has a new feature called SQL Server Stretch Database, or STRETCH, which allows us to extend our "cold" data to Azure. With STRETCH, we can still query the data through our regular OLTP (Online Transaction Processing) world, but can also store and access mass amounts of historical data on our OLTP server. I know I slipped Azure in there but isn't that where we need to be looking?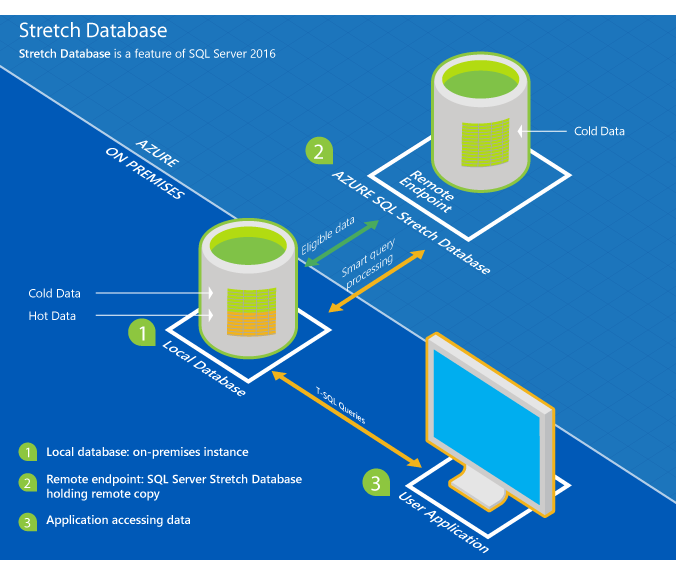 Here is a fantastic opportunity to get started. Currently, it will cost less than $1000/month and you're still able to keep your archived data tied to your OLTP server.
STRETCH is database specific and has some restrictions, no computed columns, defaults, check constraints or foreign keys. This all makes sense for cold data tables, but why would you want "historical" data to have a computed column or a default column? This is data that is moved once a month or once a quarter, mostly for compliance, but can certainly have the reporting server access it for those occasional historical reports.
Contact Interlink today to learn more about SQL Server Stretch Database or to have one of our SQL 2016 Certified engineers build the right solution for you.
Related Posts
Welcome to the Interlink Cloud Blog
Subscribe to our blog
By subscribing to the blog, you will be notified whenever a new blog post is created on the site.
All content provided on this blog is for informational purposes only. The owner of this blog makes no representations or warranties regarding the information from our partners or other external sources.