Microsoft Kaizala | Reasons your Firstline Workers will Love This Simple & Secure Mobile Chat App for Work
See what Microsoft Kaizala is, how you get it, and how it's different from Microsoft Teams
______________________________
A common struggle for organizations is figuring out the best way to bridge the gap in communication between corporate offices and their firstline workers – the people who work in service or task-oriented roles across a variety of industries such as retail, hospitality or manufacturing. Oftentimes, associates in these roles want a more convenient and secure way to connect with their team, view company resources, and manage their schedules or shift changes. As a solution, Microsoft has developed Kaizala – the messaging app that brings unique capabilities to Microsoft 365, with its ability to connect and engage people both inside and outside of an organization's directory – including contract workers, vendors, partners, suppliers, and customers.
Sound a little familiar? Microsoft Teams already offers features like instant chat, mobile applications, and even Shifts for firstline workers, so why do you need a Kaizala integration at all? Kaizala was designed to complement Teams – which is why Microsoft recently announced they would be delivering Kaizala capabilities into Microsoft Teams as part of an integrated offering. Read on to learn more about Kaizala, including what it is, how you get it, and how it's different from Teams...
What is Kaizala?
Kaizala (pronounced [ki-zal-a]) delivers on three key promises:
Connect with anyone using the Kaizala open directory – Kaizala enables people to sign up with just a phone number and is scalable to millions of users. It also works well where bandwidth might be limited.
Secure work management integrated with messaging and video – Built-in action cards such as survey, poll, job, training, and location sharing enables you to coordinate work and securely collect information.
Digitize business processes – Kaizala's extensible platform enables you to build custom line-of-business action cards (like checklists, surveys, polls, etc.) and gather business insights using in-built reporting and analytics.
The three most ideal use cases for Kaizala:
Kaizala is ideal for companies who regularly employ part-time, seasonal associates or contractors because you only need a phone number to sign up. This way it's easier for companies to grant access to company resources to these temporary employees, without the hassle, management, or cost of getting a Teams license.
Kaizala is recommended for emerging markets, where companies are supporting an open network of people– like distributors, vendors, partners, or customers. With Kaizala's phone number based open directory model, it's easier for these companies to be easily connected and engaged with their extended network.
Some companies are using both Kaizala and Team together – Teams for day-to-day project management, and Kaizala for service and shift staff that may not be there as long term.
Microsoft first rolled out Kaizala in India during November 2017. Since then, Microsoft has taken success stories, criticism and feedback to update and improve Kaizala's features, including:
@mentions enable you to tag individual members in a chat so you can call their attention to things that matter.
Image annotation provides a rich inking experience, so you can markup images before sharing in chat
Video calling enables you to connect face to face using rich 1:1 video calling.
Kaizala me feature is a private chat space just for you, where you can send yourself chat messages such as meeting notes or reminders, or try new action cards
Kaizala vs. Teams
Kaizala was not developed as a replacement or second option to Microsoft Teams. The capabilities of Kaizala are intended to complement the robust communication and collaboration capabilities of Teams. Enabling every member of an organization's network with digital communication tools – whether they are inside or outside of the company directory – can transform the way work gets done.
According to Microsoft, Kaizala was designed to address some of the key challenges that companies faced when they were trying to work with flexible first-line workers. As mentioned previously, it was also designed to complement Teams – which is why Kaizala Pro capabilities will be added to Teams over the next 12-18 months. The goal is to replace the Kaizala service and make Teams the primary client in Office 365 and Microsoft 365 for communication with both internal employees and people in your extended networks.
Kaizala is the more flexible approach compared to Teams, mainly because it only requires a phone number to sign up. The most obvious overlap between Kaizala and Teams comes with the arrival of the "Shifts" tool for Microsoft Teams. Kaizala has always worked very similarly to StaffHub (the previous name for Shifts), providing firstline workers with an intuitive interface for group communication, schedule management, and timesheets.
While Shifts is very similar to Kaizala, by bringing shift management into Teams, it's worth noting that the two apps aren't exactly the same. One thing worth noting is that the way you use the two apps is different. When you sign in to Kaizala with Microsoft, you register a phone number – just like you would with WhatsApp. You don't need to remember a password or username, and you don't have to log-in every day.
Kaizala is also a great option for workers that are jumping in and out of the workforce. All you need to do is input a phone number, and your new employee can work with anyone in your organization.
How Do I Install Kaizala?
In April 2019, Microsoft rolled out to all eligible Microsoft 365 and Office 365 commercial customers worldwide, making it generally available in 40 languages across 180+ markets. Kaizala Basic is a free app that you can download and set up with only a phone number. Kaizala Pro is included in a number of subscriptions – Office365 F1, E1, E3, E5, Business Essentials, Business Premium, Microsoft365 F1, E3, E5, and Microsoft 365 Business.
Downloads
Free
Paid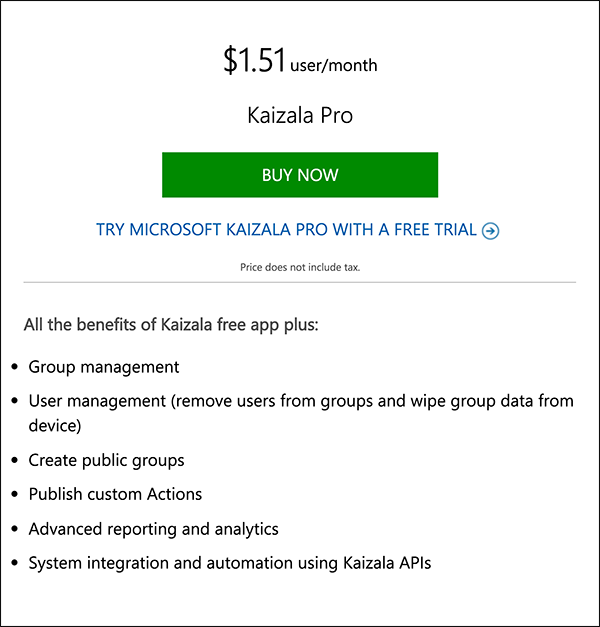 Start Experiencing Complete Company Collaboration
Contact Interlink for help getting you started on Microsoft Teams and Kaizala.
Interested in learning more? View our similar blog: Meet Cortana – Your New Calendar Assistant.
Related Posts
Welcome to the Interlink Cloud Blog
Subscribe to our blog
By subscribing to the blog, you will be notified whenever a new blog post is created on the site.
All content provided on this blog is for informational purposes only. The owner of this blog makes no representations or warranties regarding the information from our partners or other external sources.