Microsoft EMS Case Study: Interlink Sets G&J Pepsi Free to Innovate, Collaborate and Grow
G&J Pepsi Cola is the largest family-owned and operated Pepsi franchise bottler in the United States. Over 1,000 of their 1,600 employees are made up of deskless workers, including drivers, salespeople, and merchandisers. Not yet utilizing mobile devices, this sizable workforce did their job based on paper marching orders each morning. Over time, these paper instructions became hefty books that field people lugged around and rummaged for information.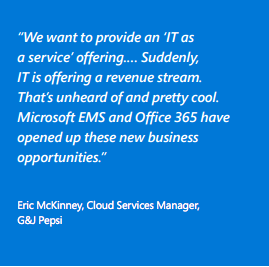 Realizing the need for change, G&J transitioned from paper to electronic documents and outfitted its deskless workforce with Android smartphones. The move created hundreds of new, unsecure and unoptimized mobile endpoints.

Here's just a couple of ways Interlink used the full value of Microsoft enterprise cloud products to meet G&J's business challenge.
Secured the Digital Link with Microsoft EMS
Using Microsoft Enterprise Mobility + Security (EMS), Interlink quickly secured 1,200 smartphones and tablets.

With the mobile devices secure, G&J corporate offices, distribution centers, and field employees can now communicate and collaborate without having to worry about endpoint security. Management is free to share sensitive data in real time with other business units, decreasing data availability downtime while increasing efficiency of response to changes in operations.
Extended Microsoft EMS with Azure Active Directory Premium
G&J uses several different applications across their IT infrastructure, all deployed with the challenge of needing to be secure and easily accessible. Using Azure Active Directory Premium, Interlink streamlined the management of these applications and improved the secure accessibility of multiple applications.

By using a cloud-based single-sign-on (SSO), G&J consolidates application management and usage into one simple process. IT no longer needs to spend time and resources configuring multiple sets of credentials, and field employees never need to be concerned about not having access to their suite of third-party applications.
Read the full case study and see how Interlink met G&J Pepsi's business mobility challenges with Interlink and Microsoft EMS.

Contact us to show you how we can improve your collaboration, security, and mobility with Microsoft EMS too.
About the author
Matt Scherocman brings more than 15 years of experience in the information technology industry to Interlink. His experience includes both the system integrator and manufacturer sides of the business. During his time at the Microsoft Corporation he was responsible for all the Large Account Reseller (LAR) relationships in the four-state Heartland Area of Michigan, Ohio, Kentucky, and Tennessee. Prior to Microsoft, Scherocman led a Cincinnati -based IT consulting company to grow 5000% and become a Microsoft Worldwide Partner of the Year. He is actively involved in the strategic vision and operation decisions of the company including finance, selling strategy and marketing. Matt holds a Bachelor of Science in Business degree from Miami University and is a Certified Expert in Microsoft licensing including speaking engagements at both Microsoft's Worldwide Partner Conference and Channel Partner Summit. He is a frequent contributor to leading industry publications.
Related Posts
Welcome to the Interlink Cloud Blog
Subscribe to our blog
By subscribing to the blog, you will be notified whenever a new blog post is created on the site.
All content provided on this blog is for informational purposes only. The owner of this blog makes no representations or warranties regarding the information from our partners or other external sources.