Microsoft 365 Licensing Options: Microsoft 365 Business vs. Microsoft 365 E3
Microsoft 365 licensing comes in different versions - with one for smaller businesses and three for larger corporations. How do you determine which plan is going to add the most value to your organization?
______________________________________________
All businesses share common needs: increasing productivity, working more efficiently, and securing their data. Before smaller organizations were forced to pay for Enterprise subscriptions that had features they would never use, or they would just live without. That's no longer the case with Microsoft 365 Business —organizations now have their own value bundle.
Now Microsoft is offering Microsoft 365 Business, combining the productivity tools and features of Office 365, with the security of Windows 10. This cost-effective subscription is built specifically for small and midsize businesses to empower their team to be more productive through collaboration while keeping a peace of mind that their data is secured.
When looking at these subscriptions, it's important to understand the differences between M365 Business and M365 Enterprise E3 because it is not always obvious which option is best for your business. This blog will dive into the comparison of each option to help guide your decision. To start off, why should companies choose Microsoft 365 in general?
Security – The security tools and features you get with M365 bring together the best of Office 365, Enterprise Mobility and Security, and Windows 10.
Value – Microsoft 365 can save you in licensing costs. If you're already paying for Office 365 then you can upgrade to gain access to the enterprise features of Windows 10 and a great set of security and mobility tools within Enterprise Mobility Suite for a greatly reduced cost compared to buying each tool separately.
End of Support – If you're currently on Windows 7, extended support will end in 2020, which means that you will no longer receive security updates and patches. That leaves you exposed to cyber threats. If you are running Windows 7 (which is used by around 45% of organizations) then you will be considering upgrading to Windows 10, which is included with Microsoft 365 - giving you a better discount and access to a lot of other valuable security and collaboration tools.
M365 Business – The Basics
What is this new offering and how can you decide if it's right for your business? This solution was designed with small, midsized or growing businesses in mind. It's powered by the productivity and collaboration tools of Office365, including Word, Excel, PowerPoint, Outlook, Teams, SharePoint, and more – while staying secure and controlled with Windows 10. It offers the centralized management capabilities of users, devices, and apps that previously were only available to larger enterprises. These management capabilities are on one easy-to-use console, which is perfect for businesses with growing or limited IT staff. The plan also comes with Office 365 Advanced Threat Protection (ATP), which is used to provide advanced protection against malware and hijacked URL links.
Microsoft 365 Licensing: Making the Decision
Typically, the M365 Enterprise E3 plan is a great fit for large organizations with greater requirements for compliance, security, and IT. M365 Business is a solution designed for growing businesses with less than 300 users.
For Microsoft 365 E3 Plan for it to be valuable, the criteria your organization should meet is as follows:
More than 300 users (the Business Plan is capped at 300 Users per SKU)
Need for stronger security and device management
Need for business intelligence and analytics tools – Note that these features are only in the M365 E5 Bundle (Learn More on M365 E5)
However, if your business has under 300 users and you're unclear on which plan will be the best fit, take a look at our comparison chart below to see which features and tools are included in each bundle. Decide which features are necessary and important to your business and if you are able to save $144 per user per year with the less expensive M365 Business.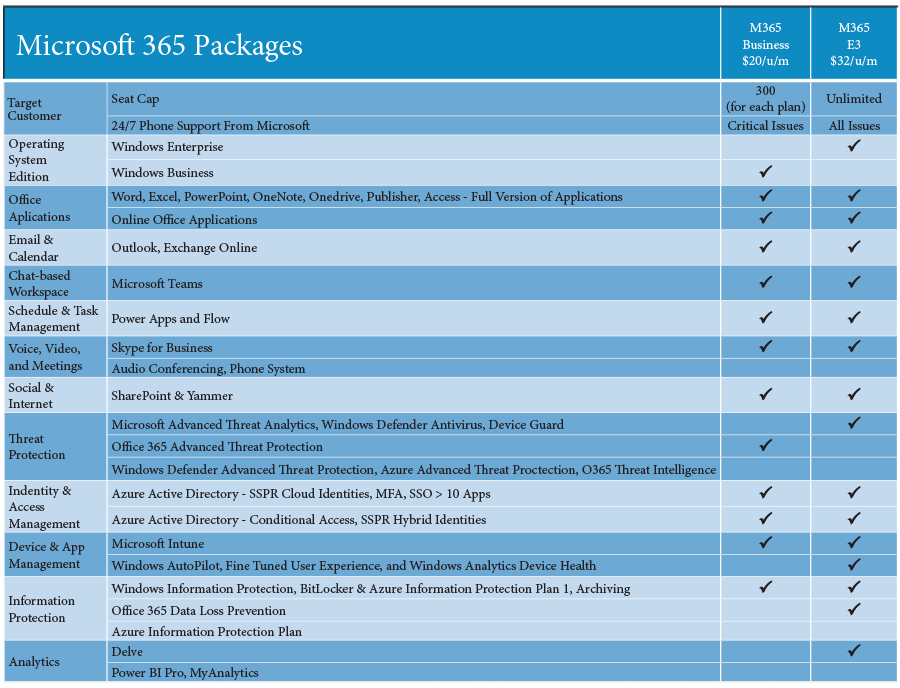 Microsoft 365 Licensing Standard Services
While there are similar features that are included in both M365 Business and M365 E3, there are some differences in terms of security, on-premise CAL rights, SharePoint, OneDrive and Exchange. Below are the big differences that make M365 Enterprise E3 stand out for larger organizations.
Threat Protection
Each plan in Microsoft 365 is focused on the manageability of your devices and keeping control of your data. Microsoft 365 Business comes with Office 365 Advanced Threat Protection (ATP), where the Microsoft 365 Enterprise E3 plan does not, however it does have more to offer such as:
Microsoft Advanced Threat Analytics (ATA) – An on-premises platform that helps protect your enterprise from multiple types of advanced targeted cyber-attacks and insider threats.
Device Guard – The combination of enterprise-related hardware and software security features that, when configured together, will lock a device down so that it can only run trusted applications that you define in your code integrity policies.
Credential Guard – Feature that aims to isolate and harden key system and user secrets against compromise, helping to minimize the impact and breadth of a Pass the Hash style attack if malicious code is already running via a local or network-based vector.
App Locker – Helps control which apps and files users can run. These include executable files, scripts, Windows Installer files, dynamic-link libraries (DLLs), packaged apps, and packaged app installers.
Enterprise Data Protection – Protects enterprise data against unintended or malicious use. It identifies enterprise and personal apps and allows employees to use them both at the same time on the same screen, without messing up either one.
Azure Active Directory, Conditional Access – Allows organizations to implement automated access control decisions for accessing your cloud apps that are based on conditions.
On-Premise CAL Rights
Exchange
SharePoint
Skype
Windows
System Center Configuration Manager
Windows Rights Management
SharePoint, OneDrive & Exchange
With Microsoft 365 E3 you get OneDrive Plan 2. This includes all benefits from OneDrive Plan 1, but with the addition of unlimited storage instead of 1TB. It also offers advanced data-loss prevention (DLP) and In-place hold to preserve documents. M365 E3 also includes SharePoint Plan 2 – which has In-place hold, advanced DLP features, and enhanced search features. In-place hold can be useful if your organization is involved in legal cases or must provide warranty or support on projects over many years. Exchange is the same – M365 E3 includes Exchange Online Plan 2, so it comes with more storage (100Gb mailbox + unlimited In-place archive), advanced DLP features and in-place hold.
Learn More
We know that Microsoft licensing, subscriptions and plans can be confusing. It's easy for the features and tools to run together. If your business is thinking about upgrading to M365 Business, M365 E3, or M365 E5 Interlink has a ton of resources to guide you along the way. For more information on pricing and features, check out our M365 Enterprise Cheat Sheet for a simple breakdown. For questions, concerns or more information please reach out to us. Our staff specializes in coaching our clients through the complexities of Microsoft's licensing, bundles and incentives. We work to ensure that our clients get the most out of their investments and avoid overpaying for licenses or technology they don't need and would be happy to help guide your business in the best direction.
Interested in learning more? View our similar blog: Microsoft Releases New Microsoft 365 Plan for Firstline Workers.
About the author
At Interlink, Sarah serves as the Operations Manager as well as a Senior Director of Client Engagement working with a broad spectrum of clients across Ohio, Kentucky and Tennessee, focusing in Cincinnati and Kentucky. She has a decade of experience in Office 365 Migrations, managed services, vendor relationships and product hardware quoting and purchasing. She is responsible for overseeing Microsoft partner relationships and strives to build meaningful, positive relationships with our clients.
Related Posts
Welcome to the Interlink Cloud Blog
Subscribe to our blog
By subscribing to the blog, you will be notified whenever a new blog post is created on the site.
All content provided on this blog is for informational purposes only. The owner of this blog makes no representations or warranties regarding the information from our partners or other external sources.