Limited-Time Microsoft Offer: Migrate VMware to Hyper-V Now and Save
With the launch of Windows Server 2016, making the switch from VMware to the Microsoft Hyper-V makes more sense than ever. With Microsoft's VMware migration offer, switching to a cloud-ready, dynamic virtual server is easy.


Migrating from VMware to Hyper-V takes advantage of Windows Server 2016 unmatched benefits, including:
Built-in security capabilities
Reduced total cost of ownership
The flexibility to deploy hybrid to the cloud where optimal
Scalable cloud application workloads support
One less vendor that you must negotiate with

Windows Server 2016 provides robust solutions for small and large enterprises. The Hyper-V puts an emphasis on security by offering new, unique security services such as Shielded Virtual Machines and Azure powered Just in Time Administration.

Windows Server 2016 also comes with software-defined datacenter capabilities that cover virtual machines management, increased performance software defined storage, and time-saving networking infrastructure solutions.


Reducing Total Cost of Ownership
Migrating from VMware to Windows Server 2016 Hyper-V reduces your Total Cost of Ownership (TCO). The VMware to Windows Server 2016 migration offer gives customers free Windows Server Datacenter licenses with a Software Assurance subscription. Basically, if you purchase the maintenance package, Microsoft will grant you the actual license.
The annual cost of a similar VMware solutions suite almost double that of a Windows Server 2016 datacenter – which you still need to purchase to support your Windows workload! (You can calculate your savings here).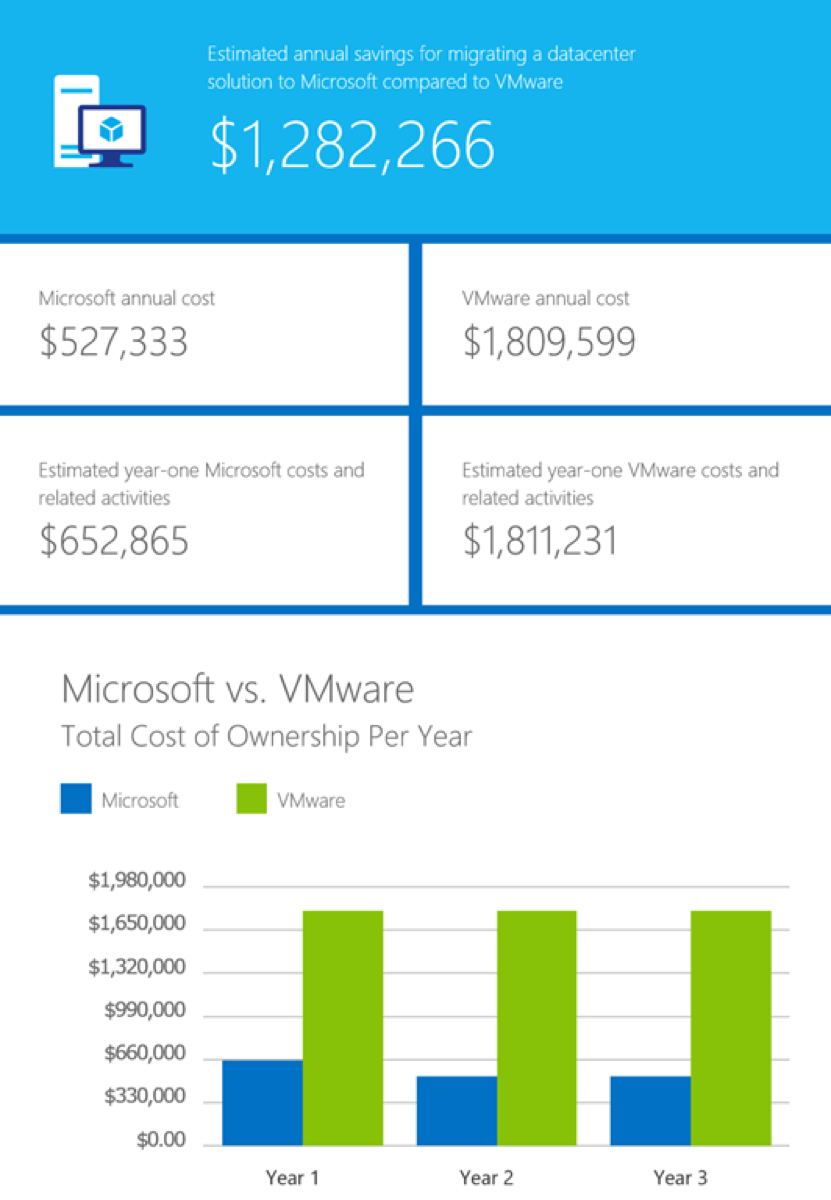 Hyper-V positions your IT infrastructure, management, and deployment solutions to be ready to scale with cloud challenges so you can take advantage of the benefits of virtual machines.
Start The Migration Process Today
Contact Interlink to discussion the migration planning process. We will assist you in identifying which virtualized workloads you'll want to migrate and how many Windows Server Datacenter cores are required.

Related Posts
Welcome to the Interlink Cloud Blog
Subscribe to our blog
By subscribing to the blog, you will be notified whenever a new blog post is created on the site.
All content provided on this blog is for informational purposes only. The owner of this blog makes no representations or warranties regarding the information from our partners or other external sources.