Kickle - Economic, Simple, and Flexible Skype for Business video conferencing
Kickle offers big video conferencing functionality for small conference rooms at a small cost.
Kickle is a compact device that connects to any screen or projector and turns it into a video conferencing system. It's based on Skype for Business (Lync) software and is compatible with Skype for Business and Lync.The creation of Kickle was inspired by a client who was looking for a simple room based solution based on Lync (now Skype for Business) technology. It can transform any screen into a video conference system simply and in a cost effective manner. You can utilize the resources you already have and make your smaller spaces more useful.
Product Information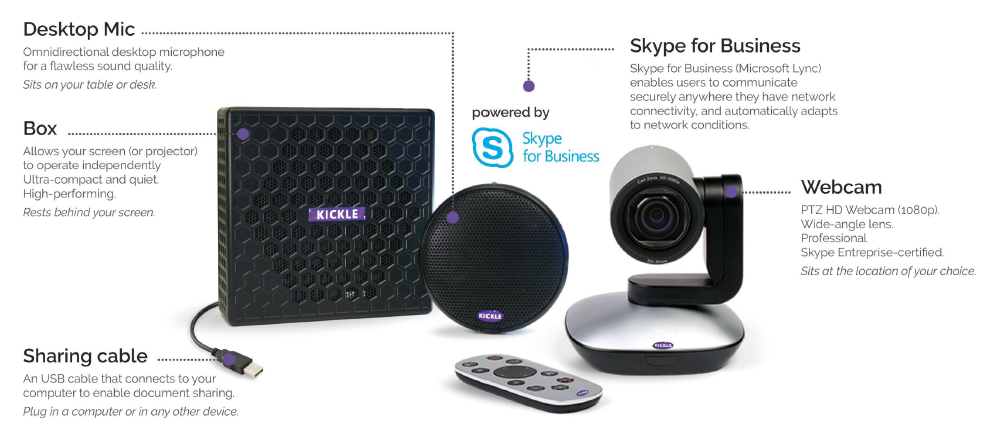 Kickle allows for simplicity.
Kickle consists of FOUR appliances:
HD webcam

- wide-angle lens

Kickle Box

– essentially a small form factor PC which can be hidden and controls the experience in the room

Desktop Microphone

- Omni directional microphone used for flawless sound quality.

USB sharing cable -

connects to the computer to enable document sharing.
Place the webcam on your chosen display device, place the Kickle appliance behind it, and utilize Skype for Business to have remote meetings in a smart, efficient way.
Packages start at $3000 per room.
Kickle allows for flexibility.
You can even scan a QR code with your smartphone, which generates an email automatically that you can send to your attendees. Or in 3 clicks, you can schedule a meeting from your computer. In addition, you are able to send the whiteboard content through email to all the attendees or save it on a USB.
The unit price is starting from $3000 including the following set-up.
Have questions about Kickle or are looking to see a demonstration? Contact us here or at 800-900-1150.
About the author
Matt Scherocman brings more than 15 years of experience in the information technology industry to Interlink. His experience includes both the system integrator and manufacturer sides of the business. During his time at the Microsoft Corporation he was responsible for all the Large Account Reseller (LAR) relationships in the four-state Heartland Area of Michigan, Ohio, Kentucky, and Tennessee. Prior to Microsoft, Scherocman led a Cincinnati -based IT consulting company to grow 5000% and become a Microsoft Worldwide Partner of the Year. He is actively involved in the strategic vision and operation decisions of the company including finance, selling strategy and marketing. Matt holds a Bachelor of Science in Business degree from Miami University and is a Certified Expert in Microsoft licensing including speaking engagements at both Microsoft's Worldwide Partner Conference and Channel Partner Summit. He is a frequent contributor to leading industry publications.
Related Posts
Welcome to the Interlink Cloud Blog
Subscribe to our blog
By subscribing to the blog, you will be notified whenever a new blog post is created on the site.
All content provided on this blog is for informational purposes only. The owner of this blog makes no representations or warranties regarding the information from our partners or other external sources.