Is Office 365 HIPAA Compliant?
Yes. Microsoft® Office 365 provides all the capabilities you need to satisfy the technology requirements for HIPAA and HITECH compliance. These regulations require that organizations establish and document procedures that govern: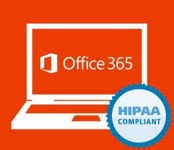 Restrict access to patient data.


How patient data is handled.

How stored patient data is kept secure.

How to secure patient data when it's transmitted.
Meeting these general guidelines requires lots of time and attention to detail. Office 365 helps you meet these requirements with less time and cost than you might think.
4 Ways Office 365 Helps You Comply with HIPAA and HITECH Guidelines
The key to these time and cost savings is cloud services. When you move IT operations to the cloud, you can avoid many of the installation and configuration tasks of on premise HIPAA compliance.
Here are a few examples of how Office 365 can simplify the compliance process:
Independently verified, secure cloud services.

The Microsoft Business Associate Agreement certifies that its cloud operations conform to HIPAA and HITECH requirements.

This makes it easier for Office 365 customers to achieve HIPAA compliance for the infrastructure.

Complete messaging security. Office 365's Exchange Online Protection (EOP)

helps protect your organization against incoming security problems (spam and malware).

Lower risk of data loss.Data loss prevention (DLP)

tools and services automate many of the tasks you need to comply with HIPAA data access and security guidelines. And, it safeguards your organization from outgoing messages, which violate HIPAA data security guidelines, even before they are sent.

Data security assurance. T

he role-based data management capabilities of the Active Directory service help you control who has access to your data

.
Complying with HIPAA and HITECH regulations will never be easy. But you can reduce the costs and headaches of compliance. To find out how Office 365 for Health can help, contact us today at 1-800-900-1150.
Related Posts
Welcome to the Interlink Cloud Blog
Subscribe to our blog
By subscribing to the blog, you will be notified whenever a new blog post is created on the site.
All content provided on this blog is for informational purposes only. The owner of this blog makes no representations or warranties regarding the information from our partners or other external sources.