Data Loss Prevention (DLP) in New Office 2016, SharePoint Online, and OneDrive for Business
Clients have benefited from Data Loss Prevention (DLP) technology within Exchange Online for years. Microsoft is now expanding the functionality to cover data and documents that may be in Office, SharePoint, and OneDrive. Plus they are enhancing the console where the policy rules are managed so that the policy rules for all of the services are controlled in a single location.
Client can continue to use the templates that Microsoft builds to help them stay compliant with regulations like PCI and HIPPA. Severity levels can also be set – so administrators, for example, could have one set of actions that happen if a user tries to send a credit card number externally and another if they are trying to send a file that contains ten or more credit card numbers in it.
DLP not only is for people who are actively trying to share content that they shouldn't, it is also for people who didn't notice that there was a company credit card contained 10 emails down in a thread before they forward it to a new distribution list.
Here is an example of a document that contains information which has tripped a DLP policy rule. You'll see the yellow policy tip right under the Office Ribbon.

New management tools allow administrators to view activity that is happening, manage it, and tack action. Incident reports and policy effectiveness tracking are a few examples.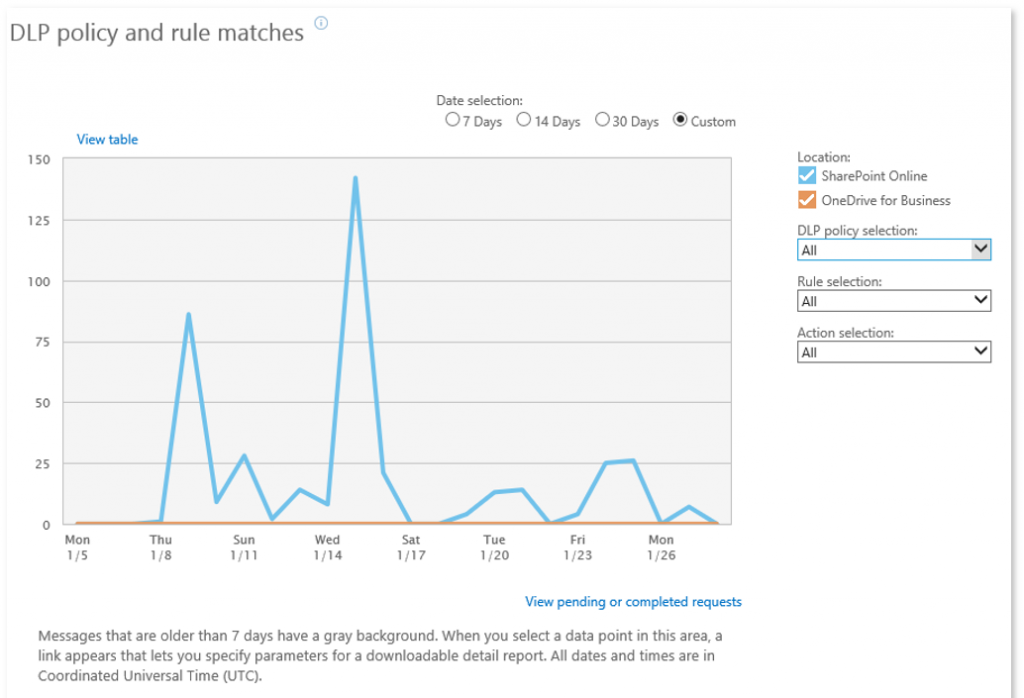 Another example might be to see how many times a particular user has tripped the policy rule. Plus look at what device was being used and from what IP address.
New features are still being added. Here is an overview of what is currently available and what's to come in the future.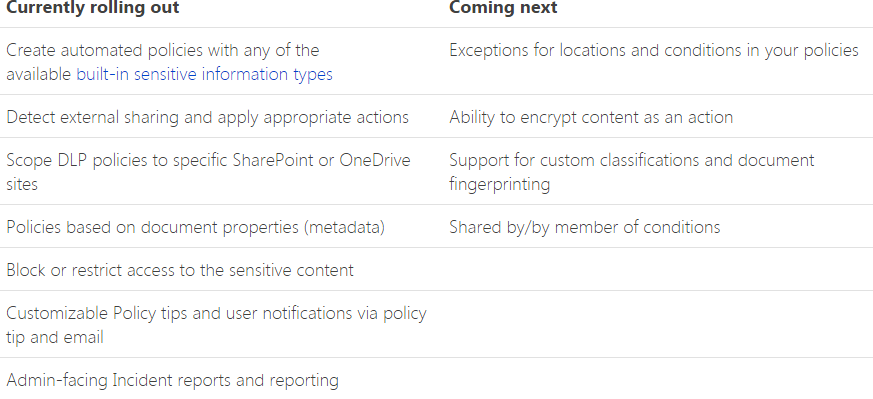 This video outlines more of the information about the updates to Data Loss Presentation and how everything works together to protect your data.
Want more information on Data Loss Prevention for New Office 2016, SharePoint Online, and OneDrive for Business?
Contact us or give us a call, we would love to help you.
About the author
Matt Scherocman brings more than 15 years of experience in the information technology industry to Interlink. His experience includes both the system integrator and manufacturer sides of the business. During his time at the Microsoft Corporation he was responsible for all the Large Account Reseller (LAR) relationships in the four-state Heartland Area of Michigan, Ohio, Kentucky, and Tennessee. Prior to Microsoft, Scherocman led a Cincinnati -based IT consulting company to grow 5000% and become a Microsoft Worldwide Partner of the Year. He is actively involved in the strategic vision and operation decisions of the company including finance, selling strategy and marketing. Matt holds a Bachelor of Science in Business degree from Miami University and is a Certified Expert in Microsoft licensing including speaking engagements at both Microsoft's Worldwide Partner Conference and Channel Partner Summit. He is a frequent contributor to leading industry publications.
Related Posts
Welcome to the Interlink Cloud Blog
Subscribe to our blog
By subscribing to the blog, you will be notified whenever a new blog post is created on the site.
All content provided on this blog is for informational purposes only. The owner of this blog makes no representations or warranties regarding the information from our partners or other external sources.