What's next for email? Automatic Prioritization
At last month's Microsoft Exchange Conference, Microsoft offered a sneak peak of some of the projects they're working on to improve email. In addition to improvements involving document collaboration. The highlights include a new program called "Clutter", designed at helping users manage their email. Clutter is still in development at Microsoft and we'll keep the blog up to date as we find out more.
Clutter
Clutter is a much anticipated program designed to help users manage their most dreaded communication tool – email. At its heart, it intends to remove as much unimportant mail, or clutter, from a user's inbox as possible so that a user's inbox can become their inbox again.
While this program is still under construction by Microsoft, we know it use will use the power of Office Graph to learn how "importantly" or "unimportantly" you treat email messages and will automatically sort "unimportant" emails into a folder marked "Clutter". This is really cool stuff, especially if you receive hundreds of emails per day like me.
To learn more about it, check out the press release.
Screen shots of the program are below:
Without Clutter:
With Clutter: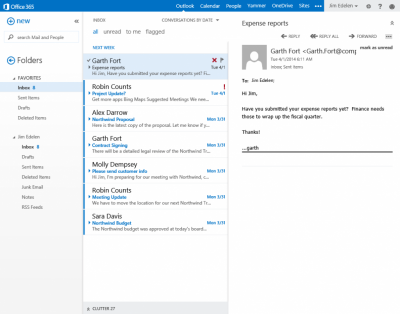 Related Posts
Welcome to the Interlink Cloud Blog
Subscribe to our blog
By subscribing to the blog, you will be notified whenever a new blog post is created on the site.
All content provided on this blog is for informational purposes only. The owner of this blog makes no representations or warranties regarding the information from our partners or other external sources.