Changes to SharePoint Online Document Libraries & What They Mean
If you are on an Office 365 first release tenant you may have noticed a new option when you logged into your environment this past Friday morning when going to view your Document Libraries.
What's this? New stuff? Cool! Let's click on it and see what happens?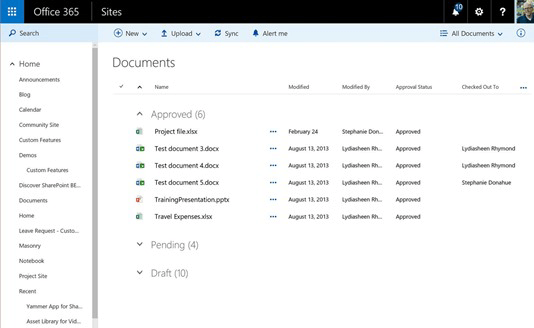 Woah! What have they done? Not only is the cheese moved, but they replaced my smooth buttery Havarti with some pungent foot smelling stuff!
Needless to say, my first reaction was not one of joy and the immediate response from many people out there was similar to mine. At first look it could be said that this is the most drastic change made to the UI in SharePoint in a very long time. Menus are moved (missing), options are different (or missing), and my branding did not carry over. It looks much more like OneDrive than SharePoint. It's easy to see why the first reaction would not be positive to someone who lives and breathes SharePoint every day.
Let's take a quick look at some of the things that I saw missing in this new experience:
Left navigation changed (and no obvious way to edit it).
My global navigation is gone
My Theme is no longer applied
My branding did not carry over
It's not possible to edit the page (cannot add web parts like we did in the past).
Managed Meta Data Navigation gone.
Display forms are gone. (Display forms, NOT Edit forms).
But we do get a nice preview panel with some helpful information by clicking on the "…" for an item and selection "Details."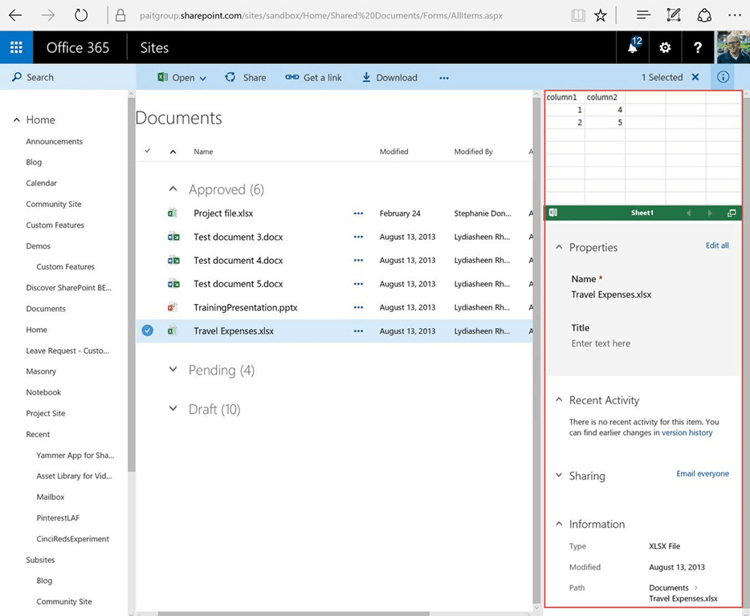 There are other things changed as well. But as you can see at first glance there's a LOT missing. How do we do what we used to do? There's a good thread on Yammer with people discussing their frustrations as well as other thoughts on the new experience.
Luckily you can easily switch back to "Classic Mode" to go back to the way things were before by scrolling down the left navigation and clicking "Return to Classic SharePoint" link.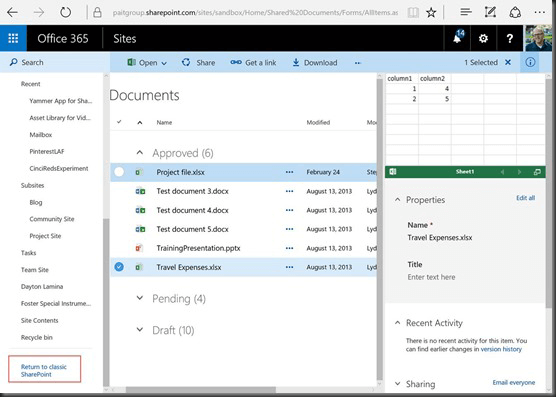 Okay… things are back to normal. Deep breath.
What does it mean to you?
What do these changes mean for you? The user, the admin, the developer? At first glance, here are the major effects for this change as it stands today:
Handling the Fear of Change
I'd gather most people will not react fondly to these changes. I get it. You get comfortable with something and someone moves it. There's that immediate drop in productivity as people learn new functionality. It will be important to properly announce these changes within your organization when they are rolled out. Just communicate well, talk in calm soothing tones and don't make any sudden movements. But seriously, just educate people. These new views are not all bad, they are just really different. In fact, they are now much more mobile friendly and responsive.
Broken Functionality
You'll be missing some of the items listed above. If you've added/injected any JavaScript into to your Document Library views you'll likely lose that functionality (at least in its currently deployed fashion). This loss of JavaScript will likely be one of the biggest obstacles faced since JavaScript has become so ubiquitous with SharePoint Online development. How do you even DO development with this new view?
Your documents are still there. Your metadata is still there. No content has been lost. It's a new way of working within SharePoint Document Libraries. In fact, Microsoft has already written an article on how to use these new Document Libraries.
"What was Microsoft Thinking?"
This was the phrase I heard most often about this change. What on earth could Microsoft be thinking? How could they drop something like this on us without warning? I have to admit my first reaction was to complain. Change is bad. Right? In fact, I DID do some complaining on that Yammer thread. I definitely want to give a big shout out to Lincoln DeMaris at Microsoft. He fielded the questions more gracefully than almost anyone else I've seen in his position and it sounds like his team was working pretty hard on fixing any bugs that came up.
So, before I wrote a blog post about how horrible the new experience was or how out of touch with reality Microsoft is, I decided to take a step back and really thing about what's going on.
It's First Release Only
Before you panic too much, keep in mind that this functionality is only available to SOME first release tenants. If you didn't sign up for preview release you won't see the option for the new look. Your users will not see it. There is no reason to panic!
May the 4th Be with You
Isn't there some big event happening on May the 4th about SharePoint? In "The Future of SharePoint" event, Microsoft is unveiling their vision and roadmap for SharePoint and OneDrive. Could these changes be related to that? Did Microsoft release these changes before the event to first release customers to make sure it's stable by May 4th ? Is it possible there is a plan in place? Is there a customization story? In the light of the May 4th event I can understand the thought process to make sure these new Document Libraries were pretty solid from a functional standpoint. This would also explain the lack of communication beforehand? Conspiracy theory maybe? I don't know for sure, but this May 4thevent is a free online event you can register for. So, go, register. Let's see how wrong I am. I'll actually be at the event, so I'll be live tweeting (@mrackley) and blogging about what I find out. Stay tuned for that!
Let Your Voice Be Heard!
This is first release. Nothing is set in stone. Microsoft is test driving this new functionality. LET THEM KNOW YOUR THOUGHTS! Do you love it? Hate it? Do you have any great ideas to make it better? Don't just be part of the problem, be part of the solution. Submit your feedback on Yammer and help drive the evolution of SharePoint.
Classic Mode is an option
From reading the Yammer thread it sounds like "Classic Mode" will be around for at least a year. So even when they do push these new document library views out to all the tenants you will have some time to ease into it, fix anything that may be broken, and make sure you apply it when you are ready. Again, don't panic.
Just MAYBE the sky's not falling.
What's the bottom line?
There's two ways we can look at these changes. We can think that Microsoft is out of touch with how people use SharePoint (which they are sometimes) and are introducing changes that will crush our ability to use and develop in SharePoint, or there is a reason and plan for these changes and we'll have to wait to find out more. Regardless, the worst thing you can do is be silent. Send them your feedback and thoughts.
I think most people (everyone?) can agree that Microsoft should have handled the communication of these changes better instead of just dropping them in our lap, but before we all throw our hands in the air and threaten to move to Canada (isn't that what we are supposed to threaten to do now?) let's take a deep breath and tune in to the May 4th event and hopefully most of our questions and concerns will be addressed and all of these changes will make sense.
---
Related Posts
Welcome to the Interlink Cloud Blog
Subscribe to our blog
By subscribing to the blog, you will be notified whenever a new blog post is created on the site.
All content provided on this blog is for informational purposes only. The owner of this blog makes no representations or warranties regarding the information from our partners or other external sources.