The Business and Technical Benefits of Azure AD Domain Services
Azure AD Domain Services provides managed domain services that relieve the high cost and administrative overhead required when deploying domain controllers using virtual machines in Azure. Other approaches often require admins to manage and monitor every small detail of these domain controllers, which can cause workloads to be vulnerable to transient network glitches or outages, resulting in lower uptime and reduced reliability due to network outages. With Azure AD Domain Services, you no longer have to worry about this.
Business Benefits of Azure AD Domain Services:
The total cost of ownership reduction for IAAS customers who can now leverage a domain service in the cloud and reduce the overall virtual machine footprint
Offers customers new options and flexibility as they plan and deploy their enterprise IT resources across on-premises and the cloud
Quickly enable Azure Active Directory Domain Services in minutes for your Azure Active Directory tenant
Pay as you go. You pay an hourly charge based on the size of the directory
It's a highly available managed service hosted in globally distributed datacenters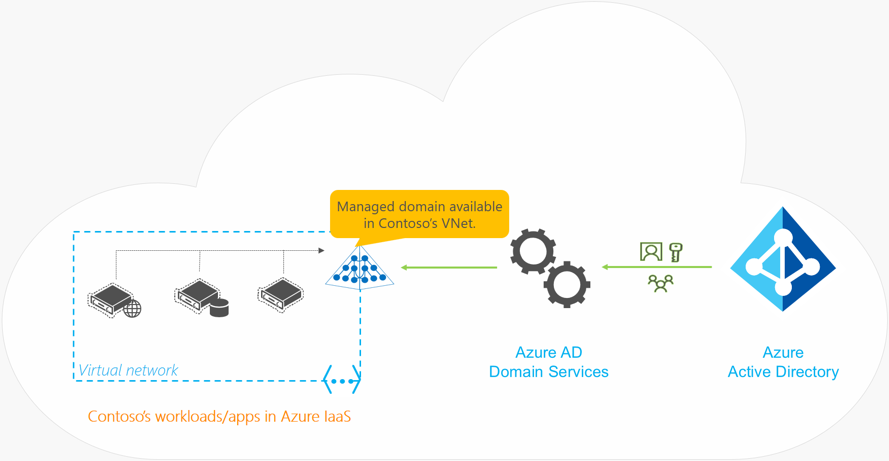 Technical Benefits of Azure AD Domain Services:
Creates a hybrid extension of customers on premise domain controllers and enhances capabilities of SSO and other Azure services needing to leverage certain types of authentication
Azure AD Domain Services managed cloud based domain services such as domain join, group policy, LDAP and Kerberos/NTLM authentication in the Azure cloud
Customers get the full benefit of Windows Server AD in the cloud domain, without having to deploy, manage, monitor, and patch domain controllers
Pricing Details
Azure Active Directory Domain Services usage is charged per hour, based on the total number of objects in your Azure AD tenant, including users, groups, and domain-joined computers.

---
Interested in seeing what Azure AD Domain Services can do in your environment? Contact us today!
About the author
Matt Scherocman brings more than 15 years of experience in the information technology industry to Interlink. His experience includes both the system integrator and manufacturer sides of the business. During his time at the Microsoft Corporation he was responsible for all the Large Account Reseller (LAR) relationships in the four-state Heartland Area of Michigan, Ohio, Kentucky, and Tennessee. Prior to Microsoft, Scherocman led a Cincinnati -based IT consulting company to grow 5000% and become a Microsoft Worldwide Partner of the Year. He is actively involved in the strategic vision and operation decisions of the company including finance, selling strategy and marketing. Matt holds a Bachelor of Science in Business degree from Miami University and is a Certified Expert in Microsoft licensing including speaking engagements at both Microsoft's Worldwide Partner Conference and Channel Partner Summit. He is a frequent contributor to leading industry publications.
Related Posts
Welcome to the Interlink Cloud Blog
Subscribe to our blog
By subscribing to the blog, you will be notified whenever a new blog post is created on the site.
All content provided on this blog is for informational purposes only. The owner of this blog makes no representations or warranties regarding the information from our partners or other external sources.