Azure Security Center: Discover & Assess The Security of Workloads
Being secure should always be at the top of any organization's priority list. As cyber-attacks continue to be an ever-present threat it is important to know that you are doing everything possible to keep your organization and its infrastructure secure. When it comes to security for your Azure cloud workloads, Azure Security Center has you covered. Whether it is helping to prevent, detect, or respond to threats, Azure Security Center gives you increased control and visibility of your Azure resources. The best part is that you can begin using the basic version today - for free!
Features are in Azure Security Center
Centralized Policy Management
Some workloads may require a higher level of security than other workloads, and with this in mind, Azure Security Center allows you to define policies for your Azure subscriptions so that you can tailor them to the type of workload and sensitivity of data as needed. For example, if your organization handles any personally identifiable information (PII) this may require you to have a higher level of security for those workloads as compared to others. These features ensure that your organization meets compliance for any company or regulatory security requirements:
Role-Based Access Control: Enables you to control what users and groups are assigned to what resources
Set two specific Security Center roles of Security Reader and Security Admin

Security Reader can view things such as recommendations, alerts, policy, and health but cannot make changes. This role can be important for third party auditors and the management team.
Security Admin is able to not only have the same rights as Security reader but they can also update and dismiss alerts and recommendations. This role is frequently used for those in IT responsible for security.
Continuous Security Assessment and Recommendations
No matter your type of environment, it is important to always be watching and waiting for any event to occur so that you can quickly resolve it. Security Center, after you enable security policies, analyzes the security of your resources looking to identify any potential vulnerabilities. This tool helps you discover potential security issues, this could be in the form of a system missing a security update or perhaps a exposed network port. As Security Center assesses the environment, it will send recommendations on what is wrong. It then provides a set of actions to perform, along with feedback on what could be affected by the potential issue.
See potential issues and recommendations through a single dashboard
Advanced analytics and global threat intelligence to detect incoming attacks and prioritizes the incidents, helping you to focus on the most critical threats first
Monitor many different resources including virtual networks, databases, applications, and more using the same dashboard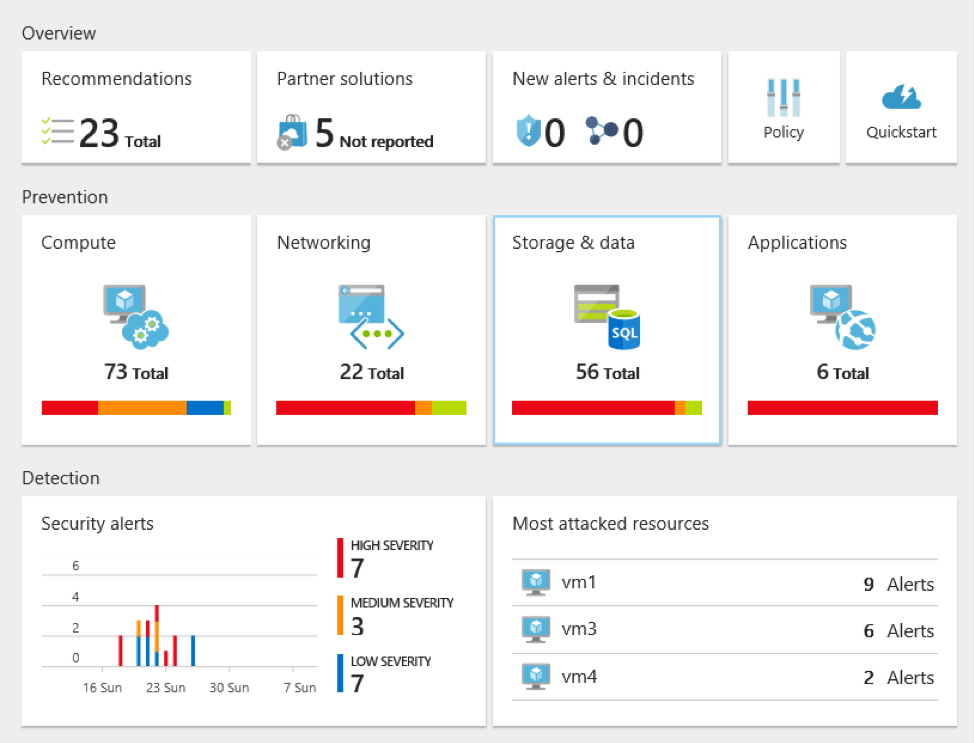 Where to Start
The free tier is a great starting spot and provides visibility into the security state of your Azure resources but does lack the more advanced features within the standard tier. Specifically, the free tier gives you access to the Security policy, assessment, and recommendation features, along with the ability to connect the platform with different partner solutions. The standard tier, which is free for the first 60 days of use, has those features and everything else, including the Security event collection and search, threat intelligence, built-in and custom alerts, and much more. Whether starting on the free tier or going the standard tier route, Azure Security Center is the best solution to keeping your Azure hybrid cloud workloads secure.
> Get more information on the pricing details for Azure Security Center.
Interested in seeing how Azure Security Center fits into your overall security strategy for your organization?
Contact us today!
---
Sources:
https://azure.microsoft.com/en-us/services/security-center/
https://docs.microsoft.com/en-us/azure/security-center/security-center-intro
https://docs.microsoft.com/en-us/azure/security-center/security-center-faq
Related Posts
Welcome to the Interlink Cloud Blog
Subscribe to our blog
By subscribing to the blog, you will be notified whenever a new blog post is created on the site.
All content provided on this blog is for informational purposes only. The owner of this blog makes no representations or warranties regarding the information from our partners or other external sources.