Affordable High Quality Video Conferencing
Polycom RealPresence Trio - package MSRP is $2300
---
Through experience we know that users want top quality audio first with simple operation. The Polycom RealPresence Trio combines the clarity of the Polycom conference room phone with a simpler operating screen where users can join with one click and no laptop required.
The package includes a speakerphone, camera, and a Visual+ box for connecting to an external monitor over HDMI. With the implementation of a 5-inch color touch screen and intuitive navigation the Trio creates a simple system which means quick starts for every meeting and minimal training requirements.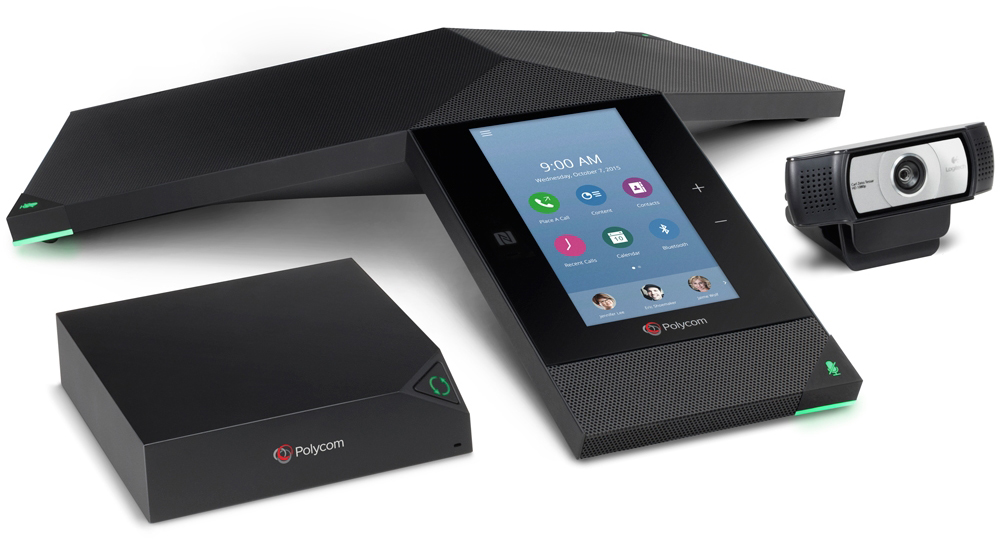 Polycom RealPresence Trio isn't just simple for users, but it is also quick to deploy and easy to manage for administrators. With strong features such as Power-over-Ethernet (PoE) and zero-touch deployment it easily connects as a phone and can integrate directly with your call control platform. With ease of use and deployment in mind the Trio brings native integration with Skype for Business, Microsoft Lync 2013, and support for all the major SIP platforms to ensure that deployment is simple and future-proof. With the future built in mind the underlying software platform allows for future application expansion making the Trio an investment that continues to become better over time.
Stand-out Features:
Clear and rich audio experience powered by new, patented technologies such as Enhanced HD voice and NoiseBlock
Visual collaboration capabilities with HD content sharing and the option for real-time video interaction
Wired or Wireless pairing with portable devices (BYOD)
"One touch join" meeting ability resulting in a speedy connection
Affordably priced for mass adoption across every meeting space
Ability to extend audio coverage with expansion mics
---
Interlink can help guide you through how the Polycom RealPresence Trio can fit into your workplace environment.
Contact us for more information.
About the author
Aaron is a Senior Consultant at Interlink Cloud Advisors. His specialties include Microsoft unified communications and core infrastructure solutions: Lync Server Enterprise Voice with full PBX integration AudioCodes/NET VoIP media gateways OCS 2007 Exchange Office 365 Active Directory Windows Server Teams
Related Posts
Welcome to the Interlink Cloud Blog
Subscribe to our blog
By subscribing to the blog, you will be notified whenever a new blog post is created on the site.
All content provided on this blog is for informational purposes only. The owner of this blog makes no representations or warranties regarding the information from our partners or other external sources.